Most Trusted

SAP Business One Solutions Provider in Dubai UAE

with more than 500+ satisfied customers worldwide
The Power of Business Transformation in Your Palms
There are three secrets of business growth – real-time data on mission-critical processes, efficient processes pushing profitability, and modern systems that work synchronously with all your critical business processes. SAP ERP software gives you access to all these parameters.
Perhaps this is the reason why so many business leaders are now looking for SAP Business One Partner in Dubai UAE to transform and grow their business to the next level. And also, probably because it is called the world's best ERP software.

Manage All Your Business Processes from One Place
with SAP Business One Modules
Whenever you talk about business, money and finance comes to mind. And when the functions of finance become too complex by human errors, the entire business structure is at risk. Not to mention, the legal risk that comes with this instability. By choosing Cogniscient as your trusted SAP Business One partner in UAE, you say goodbye to all these worries. The software manages multiple entries, balance sheet, profit and loss, etc.
Any business where the material is involved, there will be an inventory. And managing the inventory is a headache for almost everyone. Even after automation solutions, businesses have not seemed to find a worthwhile solution, until now. With SAP Business One's ability to improve audits, view information trails, maintain detailed item purchasing information, creating accounts payable invoice, and much more, you can make inventory control and warehouse management easy.
Customer is the essence of every business and maintaining the relationship with them is always important. With the help of CRM, you can keep a track of leads, interested parties, various sales funnels & their status, calendar for contacting, customer schedules, etc. We don't make empty claims like other SAP Business One partners in UAE. Our team is adept in customer relationship management and the integration of SAP ERP for that.
SAP ERP solutions are taking businesses one step higher from digital transformation – intelligent businesses. Intelligent businesses can access data from multiple sources, create a real-time analytics view, customize & create reports, and much more with ease. In addition to all these, SAP B1 also gives the users faster insights than legacy software systems, give workflow-based alerts, offer search assistance, etc.
Every business has an inflow of cash and outflow of cash. That is how the ecosystem survives. There is always some sale (good or services) to the customer and purchase (raw material, software, etc.) from a vendor that keeps the system running. SAP Business One Partner in Dubai UAE takes care of the management of these entries for you. It does not matter which domain you are operating in, proper monitoring of sales and purchasing is necessary, which this software provides.
The trait of a great business is smart and confident decisions. And to do that, you need access to all critical information in real-time from processes across the organization. Being a proud SAP Business One partner in UAE, we offer all our clients detailed analytics and reporting for better business. The software's intuitive and interactive dashboards give answers to all important questions and allow easy revenue tracking, cost monitoring, cash flow optimization, etc.
Sometimes the features of the standalone software are not exactly as per your business needs. That is why our team of able consultants can customize the solution for you with several add-ons that you can select depending on your requirements.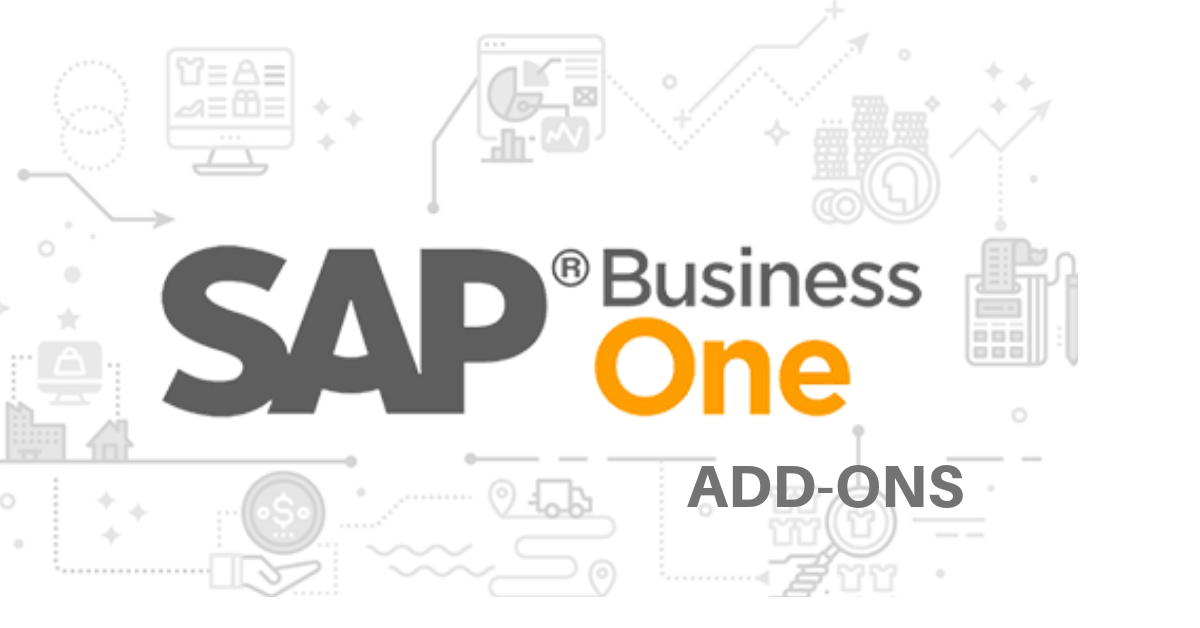 HR-Eye (HR and payroll: web-based)

E-Invoicing /E-Way Bill Add-On

Centralized master creation and consolidation
Access right control for UDF

Customer and Vendor Portal integrated with SAP
Why our services are loved by clients?
Most implementation partners take the long way for customization and try to get the clients to stir money. But not our team as SAP Business One Partner in Dubai UAE. We take ethics very seriously and that is why our customizations are on and off type where you can opt to have a feature added or removed.