A Trusted
SAP Business One ERP for Manufacturing Companies
Implement The Efficient

ERP Solution in India

to Automate Mundane Tasks
Running a manufacturing business is a hassle to streamline the business's operations. So, until you have a proper check on all the processes like production, planning, batch costing, costing of raw material, and other things, it becomes a problem to decide. Thus, SAP ERP software has become a great solution to cut all the limitations and streamline processes. It has been specifically designed for mid- and small-sized businesses, especially to manage Manufacturing companies.
The SAP ERP solutions designed for manufacturing industries are provided with many capabilities and functionalities. Thus, it helps to manage the different aspects of the manufacturing operations seamlessly. With the best SAP Business One ERP solution at Cogniscient, you can now manage the many requirements within your business. This is an all-rounder and easy-to-use business solution to streamline your business and help you conduct business easily.
Why Can

SAP Business One

ERP Solution Be The Right Step for Manufacturing Businesses?
SAP Business One has a great range of features and functionalities. Hence, it becomes an ideal inclusion for businesses. Even when it has an extensive module, we will take a look at the main reasons why choosing the SAP Business One ERP solution can be a smart move for companies.
Control over the inventory: The SAP Business One ERP solution has several benefits. Thus, it helps you to keep track of the warehouse, enable fast storage, and help seamlessly retrieve finished products. This ERP solution provides complete operational visibility from every single system in the business.
Procurement of raw materials: Cloud-based ERP solutions for manufacturing companies like B1 can provide predictions. Hence, it can be helpful for manufacturers to seamlessly maintain inventory levels and make sure of timely procurement of raw materials.
Data-driven reports: SAP Business One can be the right choice for an organization due to several benefits. It has an interactive dashboard that offers current information about the organization in an interactive manner. Therefore, the data insight of the company can provide knowledge of the performance and helps to make informed decisions.
Improves productivity: With this SAP ERP solution, you can streamline the core processes in the manufacturing industry. Therefore, it enables every company member to get better visibility over the different phases and functionalities. Thus, it can ultimately result in improved profitability and productivity.
Agile procedure: It can be helpful for manufacturing companies to seamlessly identify the issues. Hence, the ERP can be beneficial for companies to get real-time reports and find new opportunities. Implementing SAP ERP solutions can be helpful to ensure an agile manufacturing procedure.
Importance of Choosing

SAP Business One

ERP for Manufacturing Companies
Manufacturing industries are constantly facing issues. As there are multiple processes and stages, it is crucial to adapt to new approaches. Thus, SAP ERP solutions have emerged and evolved to provide the right solution. There are many consistent changes in the manufacturing industry. It includes increasing production processes, new laws, raw material advancement, product restriction, life cycles, and space issues. Therefore, it is only resulting in increasing complexity.
As manufacturing industries require abiding by the law and have stringent compliance, it requires them to comply with the regulation to improve customer expectations. However, there are multiple other challenges that a manufacturing company face. Additionally, one of the most common and daunting challenges is getting accurate information and formula management. Thus, it is a must for any manufacturing company to get details of accounting and logistics to be able to know and control raw materials. As it can be detrimental to the environment and human lives, manufacturing industries must abide by strict industrial standards.
This is when choosing a robust SAP Business One ERP solution can benefit manufacturing companies. It can be helpful in several aspects of manufacturing, which include physical accounting, warehouse management of products, scheduling, location, management, warehousing, and numerous others. Thankfully, the SAP ERP solution by Cogniscient can be highly beneficial. We are the partner who can help you implement this efficient ERP solution in different phases of the manufacturing process and allow you to maintain transparency throughout.
What are the different implementation methods of

SAP Business One

?
On-premise implementation: We make sure to provide all the benefits that a manufacturing company requires. If you want on-site implementation, we will make sure to handle your request. Deploying an on-premise ERP solution would require you to get software licensing, pay IT staff and security costs, and manage software updates. It requires investment and maintenance costs but has a significant number of benefits.
Cloud implementation: You can also choose to implement SAP ERP solutions through the cloud. It requires an active internet connection and can be accessed easily through a web browser. It is generally delivered as a SaaS Cloud model can be beneficial for manufacturing businesses as it reduces the need for maintenance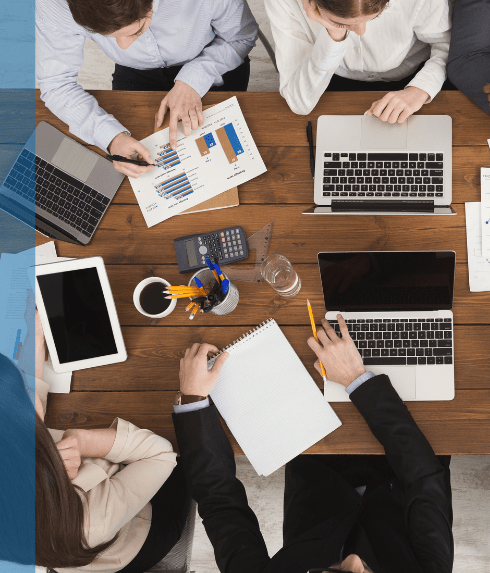 Cogniscient

– A Name for Successful SAP ERP Implementation on Manufacturing Businesses
When it comes to competing in today's market conditions, it requires everyone to have a robust solution. Especially when it comes to choosing an ERP solution, when you select an efficient and reputable implementation partner it provides enormous advantages. Cogniscient is the name of one such successful implementation partner in India that has been awarded several times for our excellence and services. We implement ERP solutions strategically in different aspects of manufacturing industries.
As a market continuously grows with more people emerging to provide great services, it requires making the right choice for the implementation partner to enjoy and leverage the utmost advantages. With years of experience and having some of the top engineers on our team, we aim to surpass the requirements and provide a successful implementation.
Frequently asked questions
Why is SAP Business One an ideal choice?
SAP Business One has been specially designed for small and mid-sized businesses. It helps to streamline manufacturing operations and get better visibility. With the design of modules in ERP solutions done to bring transparency to the processes, this ERP solution can become an ideal choice for manufacturing companies. You can get every detail of the operation from the dashboard, which will help you make informed decisions.
What is the implementation procedure?
Our team follows an implementation process that depends on your business. After making an analysis of your business and operations, we will start implementing the ERP solution.
Will your team provide assistance after implementation?
Yes. We believe in maintaining long-term relationships with our clients. We will consistently help you with updates, maintenance, and other needs.