How to Improve the Customer Experience with ERP?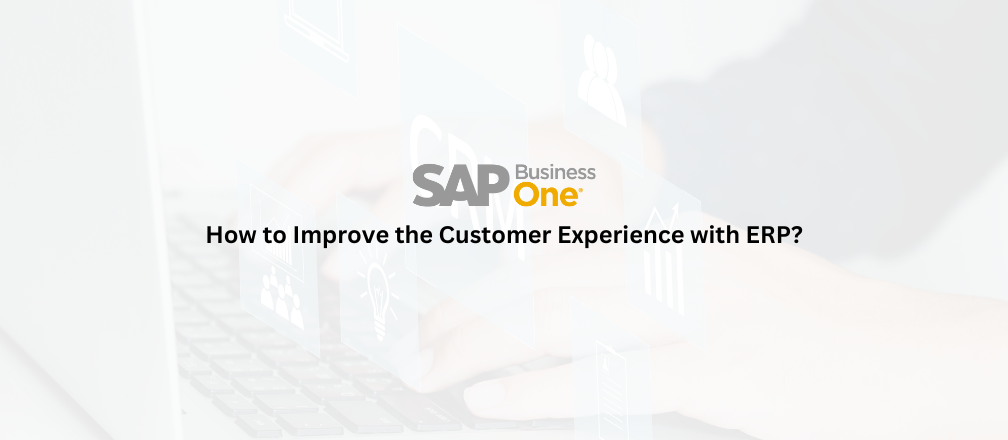 Introduction
Businesses in today's competitive world need to make sure to implement technology in order to stay in the competition. ERP systems today's date can be a great choice for businesses with extensive assets like technology, manufacturing and distribution to improve efficiency and manage the entire process.
Improving business processes can also increase Customer Experience with ERP to the next level. Hence, implementing ERP systems and businesses for both customers and business operations can help to streamline operations and improve customer experience to the next best level. Businesses that have already realised the potential of ERP system has already implemented them.
As online search has become the new trend, it has helped customers to easily compare services and products provided by competitors in a matter of few seconds. Hence, unless you have a strong online presence, great reputation, and strategy, you will not be able to get success. One of the most important requirements is providing unmatched customer service to ensure that you get customer loyalty. This is something that will bring potential customers to businesses irrespective of the competition.
How ERP can be Beneficial to Boost Customer Experience
Here are some of the ways in how ERP systems can be beneficial to boost customer experience.
Streamlining the backend process of your business
Implementation of an ERP solution can help your company to provide the best products to the customers. Hence, it can be beneficial as it helps you to reduce the resources and time required from the very first process. Hence, businesses can easily manage both their resources and time, from Picking the raw materials to packing the final product to shipping them to their customers.
Therefore, ERP systems can be beneficial in avoiding the negative impacts by using automated processes. Using logistics can result in improved productivity in the warehouses, better control over the inventory, and increased transportation times. These systems can be beneficial for companies to easily track business opportunities and leads While managing orders of the current customers. Hence, it can greatly improve customer communication and customer satisfaction.
Improve customer experience
Streamlining back and processes of business can be extremely beneficial when you're looking forward to improving customer experience. The reason is that when you have track of the backend processes, it means that your customers will not have to wait to get the answer to their queries for a long time over the phone. They will immediately be able to talk to the customer service representative and look for the current solution.
Implementing an ERP solution also helps to keep track of the data of the customers. Thereby understanding the buying activity of the customer. Understanding their current buying habits and history can help them become efficient in managing customers by looking at the patterns. With ERP systems, you can easily get a comprehensive view of customer interaction.
Improving data to understand customers
The data of your company is the basic thing to improve the internal processes and customer services. Thus, ERP systems can be the only thing that can easily help businesses distribute data throughout the department. Implementing ERP systems in the company can help to get real-time information on different aspects of business.
Integration in ERP systems of front-end office operations and warehouses can be a great choice. It helps every person associated with the sales and inventory get the correct information and thereby properly plan the deliveries.
Conclusion
ERP systems and their integration into modern businesses can be greatly influential and have a positive impact. When it comes to improving customer experience, ERP systems can be greatly beneficial. As it helps businesses to keep track, it equally helps them to manage their customers. You also have to make sure that you choose the right implementation partner, like Cogniscient, to get the best services.