5 Reasons your Small Business Needs ERP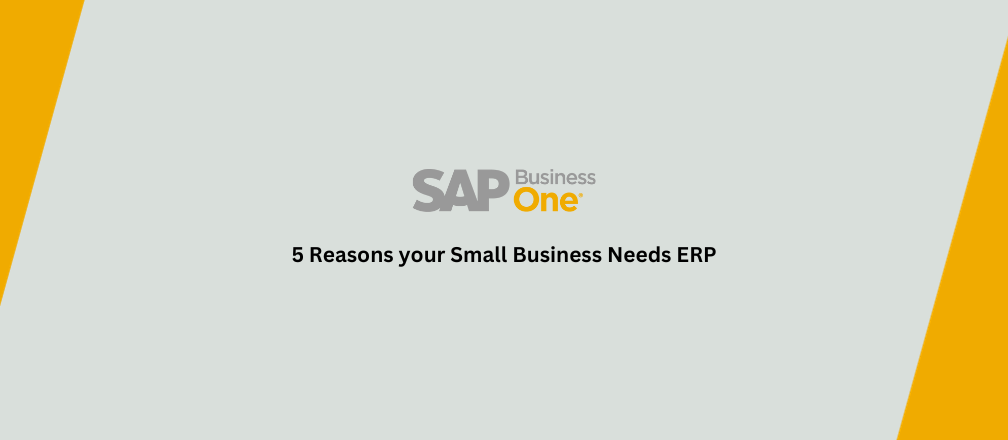 Introduction
ERP solutions or enterprise resource planning is a set of tools exclusively created for businesses. The core objective of ERP solutions is to create an integrated and centralised platform for businesses. One of its powerful solutions is SAP Business One. It allows businesses to manage everything from customers, finances, and suppliers to inventory from a single database. Therefore, implementing such an ERP solution can create transparency throughout the operations.
Working with conventional systems can sometimes restrict growth and is unable to satisfy customers' requirements. Additionally, as companies require complying with their new standards, ERP solutions become the right choice. Outdated methods will only lead to staying behind.
Therefore, ERP solution is known to be the prime driver for the digital transformation of the company. Users will be able to enjoy using cloud services and its flexibility. In addition to this, real-time reporting and accurate data are some of the major reasons why SAP Business One can be the right approach for small businesses. In addition to this, real-time reporting and accurate data are some of the major reasons why SAP Business One can be the right approach for small businesses.
Planning:
It takes a lot of time to generate a crucial report about your company. It is especially true when you require extracting data from different systems and then trying to blend it together in Excel. Therefore, it is not only a waste of time but also a waste of effort. The first basic element for the success of any company is a proper plan.
But if it takes weeks or days to find opportunities and make decisions, it is not worth it. It requires you to have a faster solution. With an ERP solution, not only will you get instant insight into the business, but also can identify the current trends. We will be able to find transparency in different levels of labour, goods, raw materials and cash. Therefore, it can improve the decision-making process.
Duplication:
If you're already tired of writing data in different systems and repeating similar processes, it is time to change the operational flow. This is not only wasting your time but also effort. Without a centralized platform, it always requires a duplicating process.
This way, you might have an efficient team, but you're wasting their time and effort on unnecessary tasks. Thus, integrating ERP solutions and automating certain aspects can instantly boost the efficiency and productivity of a company.
Human error:
Are you still using spreadsheets or Excel in your company? Are the reports still created on a spreadsheet? It is true that companies are constantly looking for a faster and easier solution to simplify the process of managing data. Integrating ERP solutions into the work process creates a single source.
Therefore, the data gets stored in the centralized platform. This way, it simplifies data management along with drastically reducing the chances of human errors. Therefore, this digitised and automated process can be highly beneficial.
Communication:
If your business has different departments and it is becoming hard to communicate and maintain transparency, it is time to switch to an ERP solution. These innovative solutions can improve productivity and collaboration. Therefore, it keeps the team closer and simplifies the entire IT infrastructure. Working on an integrated system improves communication and makes things smarter.
Also Read:- SAP Business One for the Food & Drink industry
Connected:
No longer the traditional 9-5 hours are common. These days, employees are constantly looking forward to accessing information from different devices. Using ERP solutions helps business employees to easily track, manage and access the platform. Therefore, wherever you are located or whatever the time is, you can get real-time information.
If you are convinced about the benefits, it is time to implement the ERP solution and enjoy the functionality and features. Get in touch with Cogniscient to know more about a suitable ERP solution.