Difference between Tally and SAP Business One ERP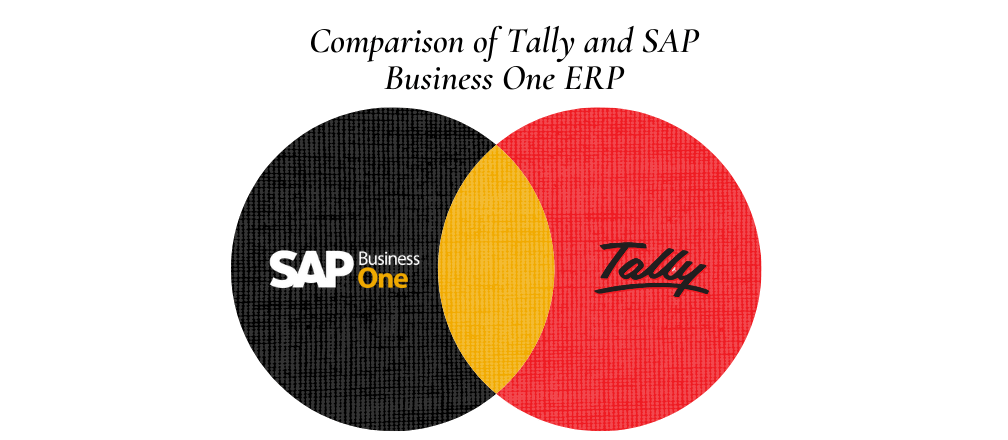 In the constantly evolving world, technology is the best friend. But when a similar thing is offered by multiple businesses, all claiming to be the best about Comparison of Tally and SAP Business One ERP, the choice becomes a bit difficult to select the right one for us.
If you are also such a business user looking to implement ERP but not sure if you should go with Tally or SAP Business One ERP, then read on. Our experts have prepared this quick read to help you make the decision better.
Does it really matter?
A lot of people must have this question, does it matter which software or tool you have?
If someone tells you no, they are lying. It does matter. It affects your operating costs, revenue, profit, customer relationship, business efficiency, and so much more. The choice of tool impacts your business and it does matter which one you are implementing in the ecosystem.
The true purpose of software
Now think for a second, why do you want to implement either of these? To manage your operations better and help you in making data-backed decisions, right?
At the outset, both tools help you achieve that. But that is not all, is there? There are hundreds of sub-tasks that you want the system to do, hundreds of expectations it should match, etc. So, here is a quick comparison of these tools.
Tally vs SAP Business One – a quick comparison
A quick comparison between these two tools to help make your decision easy.
Brand image
SAP B1 is known internationally and is a product of SAP, one of the top software firms in the world. Moreover, this software is specially developed to support SMBs and it streamlines end-to-end process management.
Tally has grown into an ERP suite from accounting software. Their ERP is particularly suited for small businesses and it is not a comprehensive suite like B1.
Security
SAP Business One is highly secure. And we mean it. More so, they use a proprietary database system for their tools to provide even higher security to the users. You can also customize the security options as per the laws of your region like SAP Business One in UAE.
Compared to SAP, Tally ERP is less secure. They do have a secure solution to protect user information, some instances of data breaches have been recorded.
Third-party software support
It rarely happens that you do not have any existing tools already in use. SAP Business One supports a large library of third-party integrations where you can synchronize the existing tool with SAP and continue to it seamlessly.
Tally, on the other hand, lags behind SAP in this case. Since Tally ERP is built on top of a core proprietary engine, it is difficult to integrate other apps with it. Furthermore, the tool cannot handle too much data at once.
Conclusion
If you are a growing business, you should opt for a tool that is a one-time investment and grows along with you. Schedule a free call with Cogniscient to know more about the Comparison of Tally and SAP Business One ERP and learn how SAP Business One can transform your business digitally.