Digital Signature with SAP Business One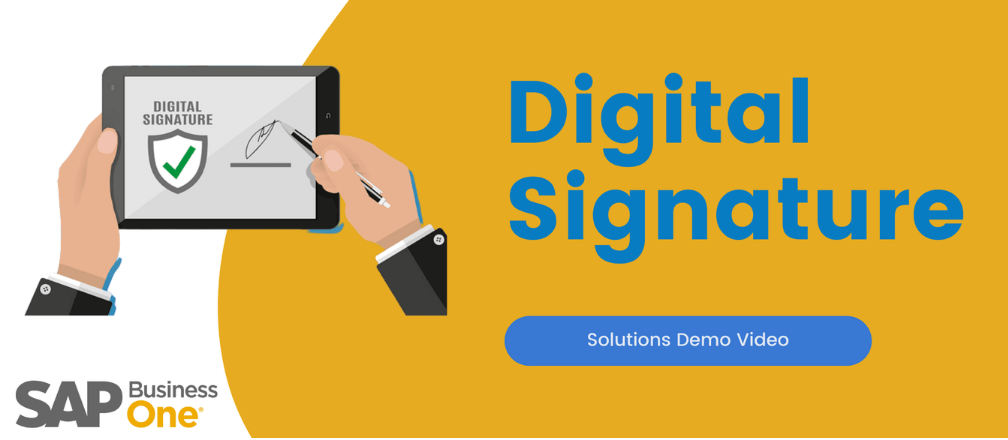 Digital signature – one of the newest concepts that you require having knowledge about. Thus, there are many who would like to have greater insight into the details. Knowing the benefits can make it easy for businesses to decide. So here we will find out more about digital signature along with its prime benefits.
Digital Signature
If you are looking for the best definition, then this is the mathematical way. Thus, you can use it for validating the integrity and authenticity of the message, digital documents, or software. To be simpler, these days, it is more like that handwritten signature that has a stamp on the documents.
Benefits of SAP Business One Digital Signature:
It is safe: To start with, one of the prime lookouts for businesses is safety. Digital signatures have inbuilt security, which helps you to solve millions of problems. Thus, you can totally eradicate some of the prime issues of impersonation and tempering communications with it. Besides, it also offers the utmost assurance about the identity, status, and origin of electronic documents.
It is accepted in many nations: If you are a business with international clients, you have to think before taking any step. You will be happy to know that several countries across the world have declared digital signatures legal. Thus, it is now widely accepted. Some of the major countries are the US, South Africa, Japan, Brazil, and now India. Therefore, it is now safe to practice digital signatures if you're handling international clients.
They have types: You need to have knowledge of the types of digital signatures. So we will find out about the three different types of this.
Class 1: This is not legal as the validation is based on username and email ID. Thus, it is a good choice for areas that have lesser risks.
Class 2: This is most beneficial when used in e-filing taxes. This comprises GST returns and income tax returns. It authenticates the identity of the signee with the pre-verified database.
Class 3: This is the highest level of digital signatures. Thus, it will need the organization or the person to be present to prove the identity. This is great for e-tendering, e-auctions, court filings, e-ticketing, and other places where there is strict security.
It will save the cost and time: Undoubtedly the entire process of taking the prints out and then signing and stamping is time taking. Organizations that are handling thousands of such in a day can find it really harassing. So choosing digital signatures can be a great way for businesses to cut down the time and cost.
It will stay secure: Unlike paper that has the tendency of losing, this will not. Since there is no use of paper and everything happens digitally, you will not lose anything. Besides, it is also a faster and easier way to access from anywhere.
Integrate Digital Signature in SAP Business One ERP Today:
Use a digital signature in SAP Business One to enjoy the benefits. Choose Cogniscient to help you integrate and ensure seamless usage.
Check out the demo here: