How does SAP Business One help the food and beverage industry?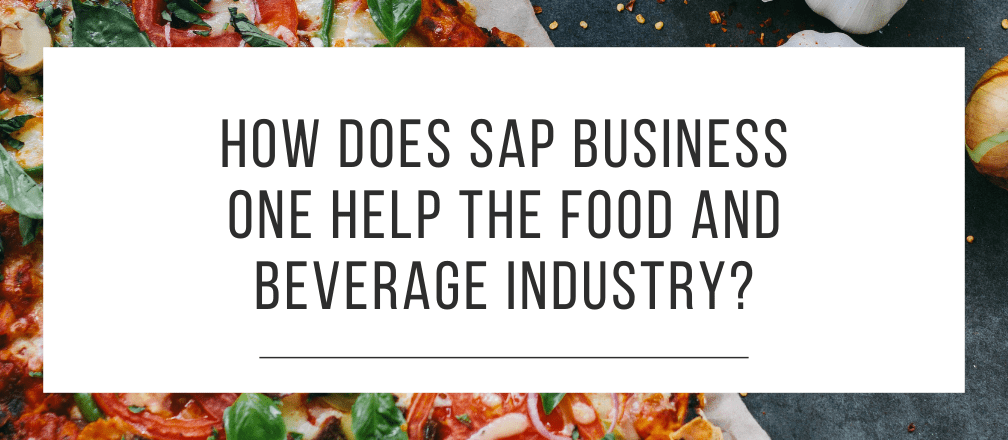 Recently SAP Business One has been witnessing huge demand. Since different companies, irrespective of their products and services, are choosing SAP products, it is becoming more common among industries. Thus, it is easy to conclude that this advanced solution can improve business to a massive level. With a range of features and functionalities included in the module, these products can become a great solution. Similarly, SAP Business One has proven to become an excellent solution for the food and beverage industry.
Therefore, it can be easily understood that the food industry has witnessed a massive revolution in the past few years. All the companies that have not yet embraced the product are yet to overcome certain challenges in this path. The new technology has the efficacy to deal with multiple challenges yet maintains great functionality. So, here we will find out some impactful advantages of SAP Business One on the food and beverage industry.
Challenges faced by the food industry:
We find new trends every year in the food sector. For example, people have now started buying prepared food online. Therefore, retailers and restaurants are looking to improve fast delivery to acquire a bigger market. It requires more flexibility and a streamlined operation.
In the year 2020, the food and beverage industry was faced with new challenges. The pandemic has disrupted the long-term supply chain and resulted in a massive loss. On the contrary, it was observed that online grocery shopping increased at an enormous rate. This brought a promising new future to the food and beverage industry. Such challenges embarked and compelled people to find solutions for automating labeling, packaging, and tracking.
Thus, more businesses started embracing SAP Business One to regulate the entire process without any problem.
Impacts of SAP Business One:
SAP Business One not only has the ability to automate marketing tasks and management, but it also makes sure of seamless communication and smoother operation.
Record Management:
One of the crucial aspects of every business is recording their everyday transaction. Therefore, the SAP business one proves to be a great way to digitize the food industry. It automates the basic management operation and provides the opportunity to digitize the record management system. With this software, owners can easily record information and retrieve it when required.
Since paper-based documents have the chance of getting lost and misplaced, powerful software can be a great help. You can create documents and can access them whenever you require. You have everything in your hand and never lose any vital information.
Inventory management:
Inventory management is highly crucial and challenging for this industry. Therefore, the individual inventory module included in SAP Business One can be a great help. It can easily record the current status of your inventory of finished products and raw materials.
This advanced solution can notify owners when the business inventory is running out of stock, and they are required to reorder immediately. Thus, it has become a valuable choice for every industry when it comes to inventory management.
These are only a few of the many benefits. If you are willing to implement B1, choose Cogniscient.