Introduction to SAP Business One 10.0 version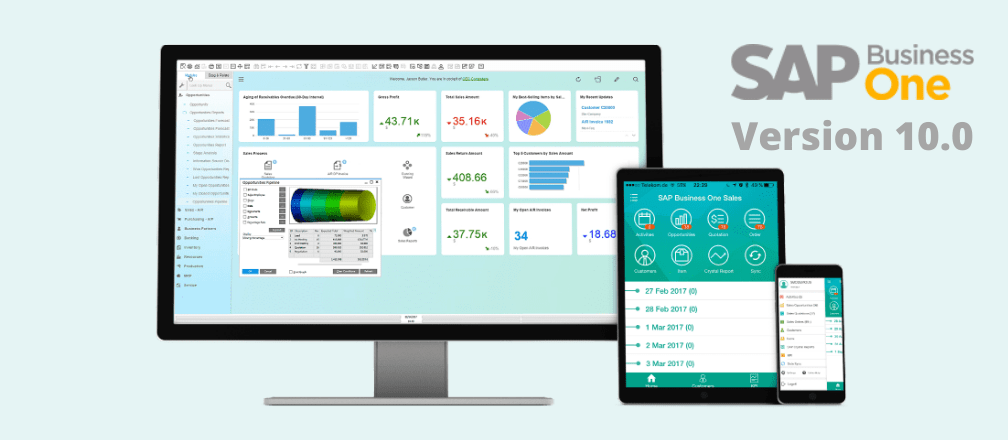 SAP Business One is a suite that grows and scales with your business. Hence, it is obvious that the tool itself get upgrades and becomes better at managing your business.
In this blog, we are going to discuss some of the major upgrades that this suite has got and what it means in terms of better management for your business process. While there are a lot of new things, we will focus only on the primary few.
Let us begin.
What is new with SAP Business One?
There are many improvements in terms of functionalities with the upgraded tool and the most useful ones for your business are:
1. Web client
Get SAP Fiori design principles in core processes being managed by the web client. The Fiori also provides an advanced user experience. The web client also allows you to put more focus on creating, processing, and updating the sales orders, invoices, etc. With an overview of the purchase documents.
The new web client also offers you better analytics charting and allows you to add new activities & update items from within the client.
2. New skin
The software suite used by a modern business should also feel modern. That is why SAP Business One comes with a new skin that gives a fresh and modern feel to the tool. And when you are using this Belize Deep skin, the system also supports 4k monitors then.
3. Enhanced user interface
SAP ERP offers you a new user interface with a new icon and menu options to hide the toolbar and avoid distractions so that the user has more working area. With the new interface, you can see the company name and user name clearly at the top center. You can choose the company directly from the window.
With the updated user interface, you can see the company and logged-on user's information clearly which makes switching between the company databases easy with a single click.
4. Enhancement in document printing
Now you can change the selection criteria for the document printing based on the document type you are working with. Furthermore, depending on the document type, the system offers new and additional options for you to work with. Not only this, you can now customize the column display with the form settings under the print document window. In addition to this, the print document window also has sorting and filtering options for the user.
With the enhanced selection features now available, you get optimized batch printing. And you have better control over document printing with higher usability and enhanced productivity while handling a large number of documents.
Conclusion
SAP Business One is the best friend of all middle-sized and small businesses which are growing at a fast pace. With these new features and hundreds of more, this ERP suite becomes the best business process management tool for your business. And a great SAP partner like Cogniscient Business Solutions that has decades of experience in SAP implementation can make all the difference for your digital transformation. Talk to our experts and learn more by scheduling a free consultation call from SAP Business One Dubai support.