SAP Business One – Backbone of the Manufacturing Industry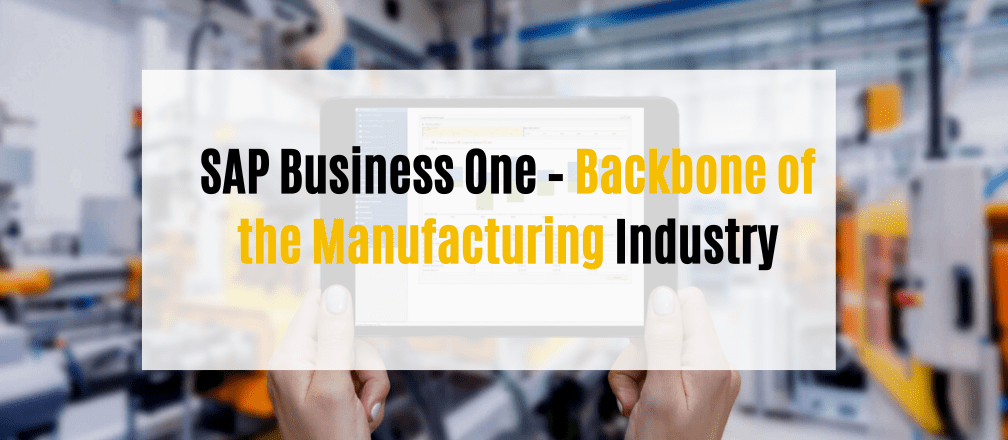 Since manufacturing industries face a lot of difficulties and challenges, nothing can be better than implementing a good ERP solution. The ever-changing dynamics and massive growth in the manufacturing domain worldwide require a robust ERP solution that has the ability to cover different sections of the entire manufacturing procedure. It includes logistics, operation management, and inventory resources.
Whether it is a mid-sized or small manufacturer, there is a need to use a good SAP Business One Solution in the manufacturing sector. It offers real-time information that helps to manage production along with the supply chains. However, if we are yet to understand the immense benefit of SAP Business One in your manufacturing industry, hopefully, this article will provide enlightenment. Let us find out why it is known as the backbone of manufacturing industries.
The benefits of SAP business one in the manufacturing industry:
It provides improved visibility:
Whether it is about supply chain management, inventory, or operation, the SAP Business One has been carefully designed to provide proper visibility into the different processes of a business. It can be easily integrated into the shipping logistics along with the supply chain to help you get real-time information about your business. This can further help you to make informed and better decisions for your business growth.
Apart from this, the interactive and customized dashboard offers 360° visibility of the entire manufacturing process. When you are able to find out every detail about all the operations in a manufacturing unit, it becomes easy to understand the challenges and customer demands, and you can quickly meet the deadlines.
It Improves productivity:
Since business one has been included with MRP or material requirement planning functionality, this SAP solution has easily replaced all the outdated scheduling with the multilevel production procedure. Material requirement planning also helps in resource planning, especially for machine maintenance, thereby improving productivity throughout your business processes.
Besides, with the material requirement planning wizard present in SAP, Business one can improve materials procurement. It also helps in planning the production, thereby reducing the time for overall pre-production.
It can help in cost control:
With a proper production environment, all manufacturing companies will be able to optimize their daily operation. With SAP solutions, businesses will find it easy to find details about their daily operation. It can simplify processes and minimize waste.
SAP Business One can be a valuable inclusion for every manufacturing industry as it can significantly reduce costs and improve your business profitability.
Adhering to the regulatory requirements:
While SAP Business One ERP can offer improved control to the manufacturer, it is also known for improving regulatory compliance. As it is built by following the standard regulation of the manufacturing industry, it can be incredibly beneficial for businesses in this industry to comply with the regulatory rules and regulations.
It complies with the regulation in every stage, which includes the supply chain, procurement, and the final delivery process. Therefore, businesses will face lesser chances of loss and have improved customer satisfaction.
With a huge number of benefits of SAP Business One, it has certainly become a patent solution for the manufacturing industry. However, if you want a reliable implementation partner, you can choose Cogniscient.