SAP Business One ERP vs QuickBooks : Which Is Right for Your Business?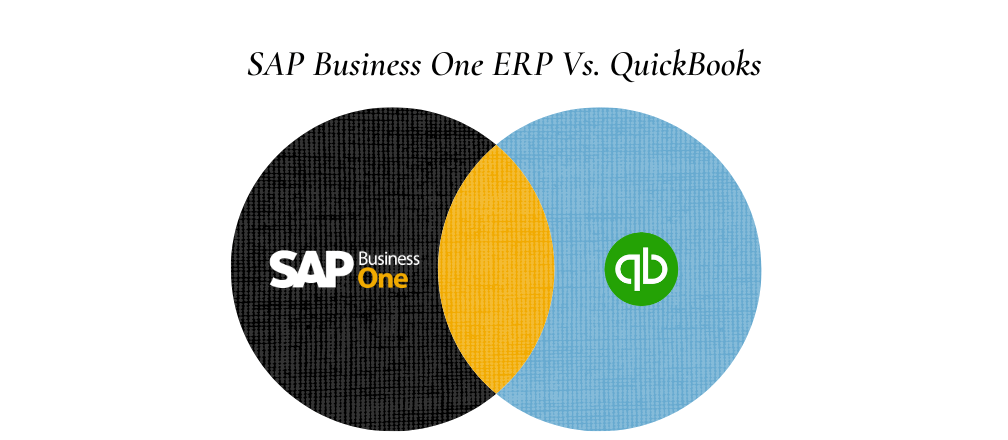 If you are unable to decide whether to choose QuickBooks or SAP Business One ERP solution, you have to consider several options. If you have already started your search, you are more likely to find out quite a number of SAP ERP solutions available in the market. However, it is crucial to understand which of the solutions can be exactly the correct integration for you.
For most medium-sized businesses, one of the common questions is whether it is enough to choose QuickBooks rather than choosing an entire ERP module. It is imperative for a business to understand that its solution is meant for different purposes. So let us take a look at both to make it easy for you to understand and then decide.
QuickBooks: QuickBooks are more of accounting software that is primarily meant to provide basic bookkeeping solutions. It is the right choice for small businesses that have just started looking for a general accounting solution.
SAP B1: It is an ERP solution or end-to-end business software that has been developed with the purpose of running a business irrespective of the volume and industry type. It is known for its scalability and is the right choice for businesses that are planning to expand.
What is the difference between SAP Business One vs QuickBooks?
QuickBooks is a software, or an all-in-one accounting solution meant for small businesses. With this software implementation, businesses can get add-on functionality like sales functionality, customer reporting, and inventory management, among several other features. So, it is primarily an accounting software that will handle the accounting job of your business.
On the other hand, SAP Business One is a robust software that comes with vast accounting functionality. Even though accounting is an essential part of SAP B1, it is not the only purpose of choosing this software. It can handle several other things within a business, including human resources, logistics, operations, procurement, supply chain management, and several other areas like marketing and sales. SAP ERP solutions are more like a comprehensive package to power up the overall business while it expands.
Flexibility: QuickBooks is much-known because of its basic accounting features. It has all the accounting features that a business requires for bookkeeping. However, QuickBooks might not be able to perform well when it comes to complex accounting requirements or needs elements like customized reports, multi-currency support, third-party software integration, and much more.
SAP Business is known for its flexibility. It is a complete solution that helps businesses to customize configurations and meet the specific demands of businesses. It can be easily configured to work according to the business requirements and use cases. Even it allows the integration of third-party solutions when required.
Scalability: QuickBooks are meant for small businesses that can handle low volumes of transactions, which are less than 30. SAP One is also meant for small businesses that can handle larger user volumes and transactions. It can easily accommodate 5 to 500 users, which is why it is said to be the best solution for small to medium-sized businesses.
Final Words
SAP B1 is the right choice if you're looking for an end-to-end solution and not just accounting needs. However, if you have a small business and just need help with accounting-related work, QuickBooks can be better.
Make sure that you choose a correct implementation partner like Cogniscient for SAP Business One to ensure leveraging the utmost advantages.