SAP Business One for the Food & Drink industry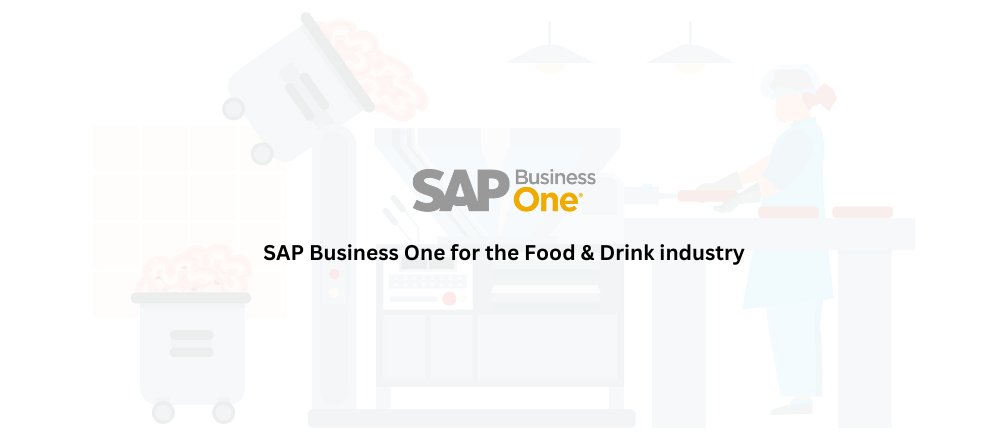 Overview
SAP Business One is a popular solution across small and medium-sized businesses. This ERP solution has gained popularity across the globe. With more than 70,000 SMEs using this platform, it has gained remarkable popularity. Similarly, it is used in the food and drink sector. Therefore, it has become the right solution when it comes to managing the critical manufacturing aspects, supply chain, procedures and compliance. Everything is made through a centralized database.
It is a popular end-to-end application that is available at an affordable price. It has been included with different tools that can specifically support the food and drink industry. Therefore, it makes sure to easily facilitate the needs. It has some exclusive features like quality, control, production and warehouse management, reporting in real-time and a lot more.
Implementing the solution can help to remove issues during production, purchase, inventory management and finance. Therefore, with SAP Business One, businesses can easily handle complex cities and simplify overall processes. It can seamlessly manage the growing challenges faced by a food and drink organisation.
How Can SAP Business One be Helpful?
SAP Business One has been solely developed for small and medium-sized organizations. Irrespective of the industry, it provides the freedom to customer solutions accordingly. Similarly, for food and beverage companies, it includes different functionalities. Therefore, the software package included in SAP Business One for the food and drink industry will have core functionalities associated with the organisation. It can digitize important tasks by automating and integrating teams present in your businesses.
It provides an opportunity for companies to streamline production and improve it. Therefore, it simplifies managing resources, recipes and packaging at different levels. In addition to this, labour and machine resources can easily be figured out on this platform. Hence, it gives clarity and reduces the chances of errors. This way, you can have better control throughout the production.
In addition to ensuring business production, it also makes sure to improve customer satisfaction and experience. With the high-end reporting and forecasting tools integrated into this platform, it helps to drive satisfaction levels. Additionally, real-time information can also help in the decision-making process.
Complying with the Industrial Rules:
Implementing SAP Business One provides comprehensive visibility into the entire process. From features like transparent item management to badge control, it allows businesses to get the transparency they need. SAP Business One also helps the Food and beverage industry to stay compliant with the new regulations.
Managing serial and batch numbers is a vital aspect of this industry. Providing control and traceability while materials or ingredients arrive at the business facility, issued, stored and dispatched keeps it on track.
Therefore, when it comes to complying with industrial regulations, businesses need to follow a strict process. With SAP Business One, companies will get confidence in the functionality available in the solutions. Hence, with quality control tools, organisations will ultimately be able to save the products, money and valuable time.
Also Read:- Tips for Choosing the Best Manufacturing ERP Software
Choose a Reliable Implementation Partner:
The food and beverage industry has a huge market. In order to manage the entire operations and keep the traceability, it requires a powerful solution. With SAP Business One, it becomes possible. However, if you are looking for a reliable implementation partner, you can get in touch with Cogniscient. With decades of knowledge and a team of expert members, they ensure successful implementation.