SAP Business One Partner in Faridabad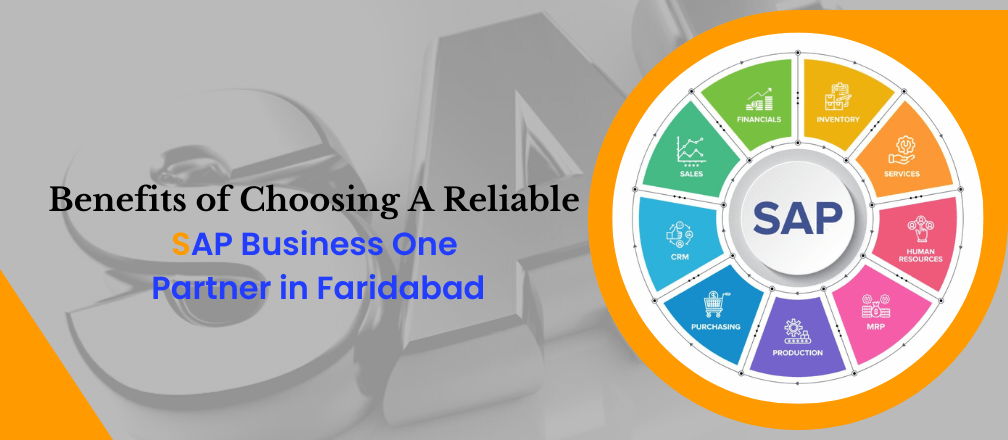 SAP Business One is the ERP software that is specifically designed for small and medium businesses. Thus, implementing this ERP model can be extremely advantageous for businesses. With features and modules to help businesses manage and function, it has been a beneficial inclusion.
SAP Business One includes functional modules. Thus, it is highly beneficial in managing customer relationships, easing finance, and analyzing and reporting purchases and production. So, its inclusion in businesses can keep detailed records. This ERP model is nothing but the best way to manage records and data in a central location. Therefore, helping businesses to make informed decisions.
However, if your business is located in Faridabad, you need the best SAP Business One implementation partner in Faridabad. Their services can become beneficial for you to integrate and utilize the ERP solution.
What are the Benefits of Choosing an SAP Business One implementation partner in Faridabad?
When you have the best partner, you can remain assured about the use. Therefore, with their expertise in ERP, you can improve your business. Besides, there are several other benefits of choosing the best SAP Business One partner. Let us check more about the advantages.
Provide Industry-Specific Solution: There is no doubt about the fact that different businesses have different requirements. Therefore, when you choose the best SAP Business One partner in your area, you will get personalized services. Based on your industry type, they will offer the functionalities, services, and processes. Thus, helping you to leverage the maximum benefit of integrating SAP Business One.
Customer and Sales Management: It is extremely beneficial to accommodate accounts. Since it has the feature of finance management, it can be beneficial to conduct banking activities with ease. Thus, using this ERP solution can be highly rewarding for managing operations and processes along with improving cash flow.
Inventory Control: If you have a business that needs inventory management, SAP Business One ERP Solution can be a great choice. With these features, you can keep records and manage inventory. Therefore, choosing the best SAP Business One implementation partner in Faridabad is necessary.
Reporting and Analytics: It is helpful in managing records and items of shipments. Thus, even when you have warehouses in different locations, SAP Business One can be effective. It eradicated the chances of error and improved the delivery services.
Business Intelligence: With SAP Business One, it can keep and manage business records. Thus, with the centralized system, you can easily manage the records and resources. Therefore helping you to configure and report in the best possible manner.
Areas Where Business One Can Be Highly Rewarding?
While most small to medium-sized businesses can leverage its implementation, some of the most common ones are:
Professional Services
Customer Products
Industrial Components and Machinery
Retail Services
Customer Management
Conclusion: With more companies realizing the potential, SAP partners are facing improved demand. However, you need to choose the best SAP Business One implementation partner in Faridabad. Choose Cogniscient if you are in search of an experienced SAP Business one partner. Their experience and knowledge can help you to leverage the potential of SAP B1.