SAP Business One Powered by SAP HANA: As a latest Technology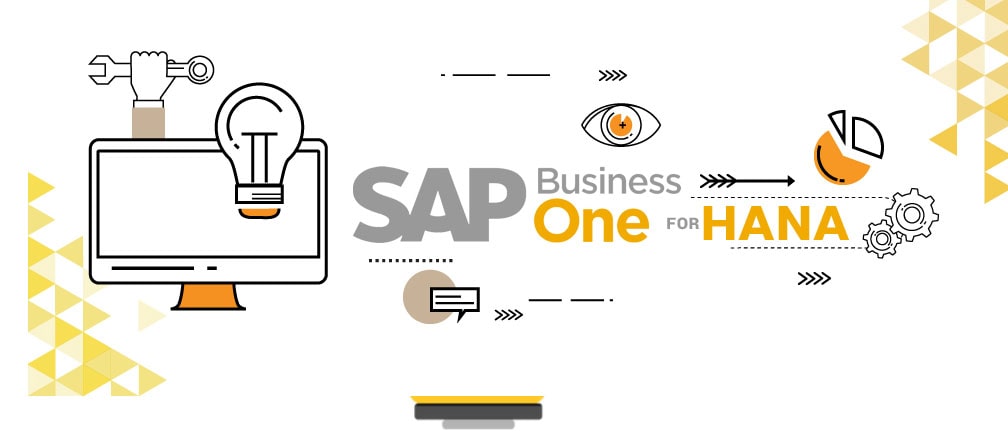 SAP Business One Powered by SAP HANA, is now commercially available for versions 8.82 and 9.0. The product contains enhancements that are designed to support the growing requirements and demands of the small and medium enterprise companies.
The new enablers of modern digital businesses include a range of computing technologies & infrastructure – such as analytics, Big Data, cloud technologies, and mobile technologies. Other digital technologies such as the Internet of Things (IoT), Machine Learning, and Blockchain are serving to boost the applications, scope, and depth of modern computing infrastructure.
Most organizations acknowledge these manifestations of digital empower companies and organizations to create new business models, and design new products and services that are in high demand in the digital economy.
SAP HANA was developed on strong conditional lines of an in-memory database platform that accentuated the use of SAP Business One.
The combination "supercharges the application performance for speed and allows (users) to analyze massive amounts of data in real time. SAP Business One powered by SAP HANA eliminates layers of complexities and unnecessary business costs found in legacy IT architecture so your business can run smarter, faster, and simpler."
SAP Business One powered by SAP HANA:
Legacy SAP Business One installations that utilize Microsoft SQL. As their primary database can gain distinct benefits from SAP Business One HANA. In these instances, SAP Business One analytics powered by SAP HANA allows users to leverage the native speed. And, performance of SAP HANA as their underlying database.
This is manifest in executing reporting functions such as Interactive Analysis, Crystal Dashboards, and Enterprise Search. Meanwhile, SAP Business One, version for SAP HANA, offers in-memory technology of the HANA database environment. To provide superior performance and a range of new features. These features include:
Promise Check: this new feature offers real-time inventory transparency on a daily basis. This feature allows customer service operators to adjust commitments for important orders and customers.
Delivery Schedule Management: users can leverage this new feature to view existing sales orders via a dynamic drag-and-drop console. The utility of this feature is resident in users' ability to re-purpose quantities from existing orders. This functionality allows business planners to "split quantities from a single order and spread them out into multiple deliveries. or push quantities from one order to another in order to satisfy urgent requirements."
Cash Flow Forecast: This allows users to update cash flow projections in real time, based on selection criteria. Such as specific marketing documents or security of transactions.
Dashboard Designer: SAP Business One HANA embeds the Crystal Dashboard Designer into every installation. Pre-defined semantic layers built into the tool enable rapid content development based on dimensions and measures.
Interactive Analysis: This feature utilizes pre-defined semantic layers to analyze various parameters such as aging, cost centers, profit & loss, liquidity, budgeting, sales opportunity, sales revenue, and inventory turnover. Users can proceed to define a data structure and develop (and publish) their own data cubes.
Enterprise Search: This new search technology provides users the functionality to use full 32-key text searches. Users can apply dynamic filters and drill-downs, while conforming to the data security policies designed by system administrators.
SAP Business One Service Mobile App:
Further, SAP has enhanced functionality with a view to boost the utility of SAP Business One.
Therefore, The SAP Business One Service Mobile App is particularly designed to answer the requirements of field service engineers. "That need an offsite tool to review and resolve assigned field service activities." This app allows medium-sized organizations to combine financials, stock management, purchasing, activities, and customer relationship management.
The SAP Business One Service Mobile App is admirably designed for on-the-go requirements of field service engineers.
This ERP Software keep a track of surplus inventory. And optimize stock movements across multiple warehouses to SAP Business ByDesign Enable users.
For Instance, The functionalities built into the app include the ability to resolve tickets in both online and offline modes. Review service contract details, check-in to a service location, connect with customers directly from the app. Click photographs of field equipment, capture images for open tickets, etc.
Above all, field engineers can use the SAP B1 Service Mobile App to construct a service history, view & edit sales orders. PDF reporting, capturing customer signature, and printing via Bluetooth modules.