SAP Business One Price and License Cost in UAE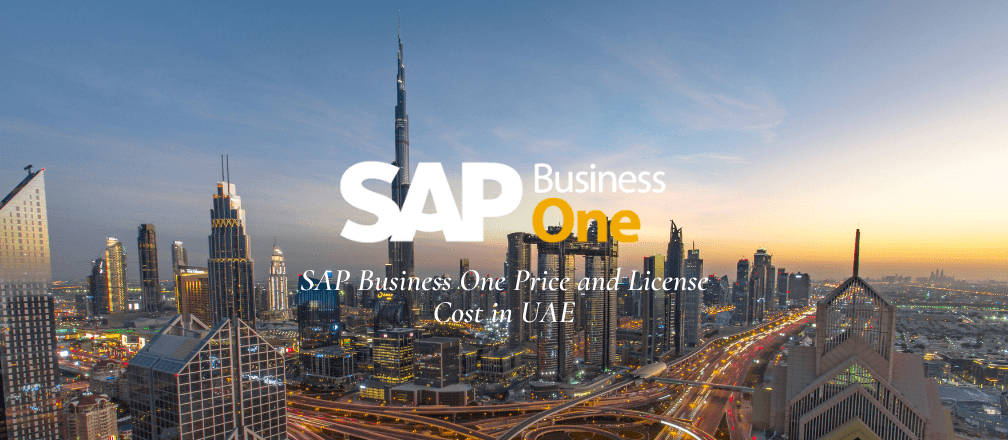 SAP Business One is one of the best business management suites out there because of its customizability. And because of that, the price of this tool varies. This is why business owners are faced with doubts about how much should it cost in their business environment.
In this blog, our SAP consultants tell you how much different tiers cost and which one is best for you.
What is the price?
Many factors influence the price for SAP Business One. This may be the type of license you are opting for, the payment period you have selected, the version you are implementing, and so on.
Some one-time costs of B1
If you can, SAP Business One in UAE allows you to buy the complete suite in one go. But remember, you will still be paying annual maintenance fees for bug fixing and patch releases. The payment changes based on your license type.
By default, the package includes one license (for one user). If you want several licenses, multiply the price of the package by the number of licenses you want to purchase.
If you want to have access to the complete SAP ecosystem, then the professional license is the best one for you. You will get all the modules like CRM, sales management, inventory control, financial management, etc. If you want to customize the tool, you can only pay for the modules that you want to use at the moment.
Infrastructure costs
Implementations are of two types – on-premise or cloud. And the price depends on which type you are opting for.
Here's a secret – when you are opting for on-premise implementation, you will be paying power bills, service maintenance, hire a resource to manage, etc. But with cloud implementation, you get a subscription-type payment model that offers almost all the similar benefits without having to be responsible for the infrastructure.
The best part about this is that you get access to 24/7 support, around-the-clock problem resolution, and a fixed subscription cost.
Add-ons
Anything that you want on top of the base is extra. The same thing happens with SAP B1, the majority of the add-ons are at an extra cost but with a high ROI. Add-ons are a great way to make your business' environment integrate seamlessly with the SAP Business One ERP.
You can opt for an add-on from the large library that SAP maintains or ask the partner to build a custom one for you. The benefit? With add-ons, you can access the system easily on your desktop, on a mobile app, or on a web portal that is accessible from anywhere.
With the right planning, you can save a large expenditure by opting for a limited license and add-ons on top.
Conclusion
Implementing and maintaining SAP Business One is not as expensive that people make it to be. The secret lies in working with an experienced partner and thinking strategically. Cogniscient has helped hundreds of businesses do that easily. Learn how we can help you too by scheduling a free call with our experts.