SAP Business One Vs. SAP Business ByDesign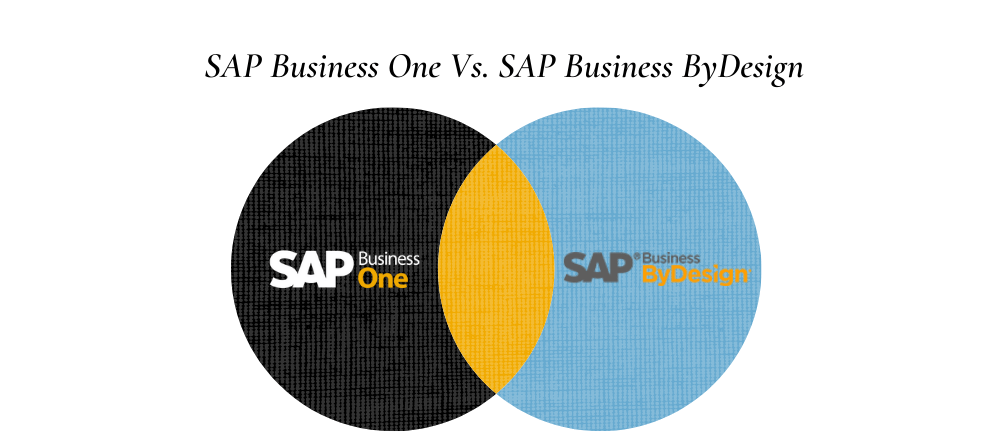 SAP Business One Vs. SAP Business ByDesign! In today's world, constant advancement in technology is helping businesses to find better and effective ways. Therefore, no longer the traditional and manual spreadsheets are a way of doing things. With more businesses coming across the SAP, they are recognizing the myriad of ways. These have improved the business process and offered them more ways to grow.
Businesses looking forward to streamlining the process are turning their attention to SAP ERP Solutions. However, with the offering of SAP Business One and SAP Business ByDesign, it has become a challenge. The challenge to choose one for businesses has brought us to talk about the differences.
Here we will pay attention to both the ERP solutions. Undoubtedly both are powerful, but understanding the difference would make it easier to choose. You will be able to sort out which suits your business.
An Overview of SAP Business One:
SAP Business one is not something new and has become a common choice for many businesses. This on-premise system can be highly effective as it is built on the ERP application. Thus, giving this tool the power to address the prime business needs for different industries.
The solution will give the support that your business requires. Using this, businesses can create innovative products, get new customers and keep things in one account. SAP Business One is created with best practices, thus, being a great help for companies.
An Overview of SAP Business ByDesign:
The SAP Business ByDesign is a cloud-based software. Thus, it suits best for subsidiaries and mid-sized businesses. This can be a good choice for businesses that want to compete with big-scale businesses. Another big thing is that SAP Business ByDesign integrates different business operations.
Thus, businesses get the ability to solve problems, get notified about things, and make informed decisions. With the single-user interface, it ensures ease. Besides, as created with best practices, it manages the different aspects of businesses. Being cloud-data, it would not need maintenance and updates. Thus, saving you from a lot of expenses.
Difference between SAP Business One and SAP Business ByDesign:
No wonder it might sound like twins, but they have different factors. So let us have a brief look into them.
Customers:
Typical customers of SAP Business One are basic retail, eCommerce, distribution, and manufacturing.
However, SAP Business ByDesign customers range from manufacturer or professional services. Other sectors that can enjoy the benefits are fintech science and finance.
Organization size:
SAP Business One is primarily created for small businesses. Therefore, you will get only limited user access. For the mid and small entities, this can become a good choice. Organization of 5 – 50 users.
SAP Business ByDesign is for mid-sized and businesses with a minimum of 5 users. This can be a good choice for organizations looking for expansion. So, organizations with 50 -1500 users can choose this.
So, now that you have got knowledge about the difference, it might become easier for you to choose. If you are planning to implement any of the SAP ERP Solutions, choose Cogniscient. They have the team members and expertise to make successful integration of SAP modules.