SAP Business One vs. SAP S/4HANA: Which is Right for Your Business Needs?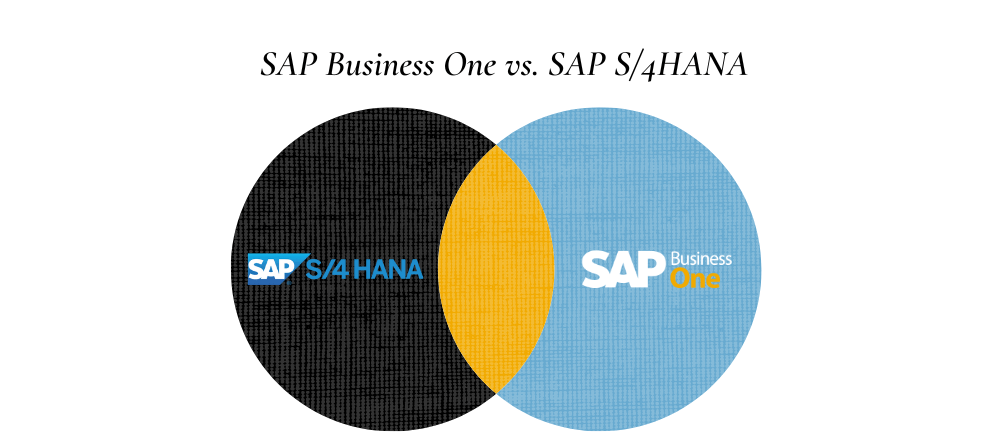 SAP ERP solutions are becoming a new need for businesses around the world. When it comes to small and mid-sized businesses and managing their operations throughout, SAP ERP solutions become a first choice. These high-end advanced ERP modules focus more on data and analytics to help companies get real-time insight into their business. Such information that one can derive about their business allows them to get improved visibility over supply chains and operations, thereby helping organizations to improve productivity and reduce efficiency.
ERP solutions like SAP Business One and SAP S/4 HANA are the two most commonly chosen solutions by businesses. Both ERP solutions have a range of functionalities that can be helpful for companies to automate several processes, optimize operations and reduce costs. Apart from this, both of these models make use of SAP HANA as their in-memory database technology.
So let us take a look at SAP Business One and SAP S/4 HANA in detail.
SAP Business One is a great choice for small businesses as the functionalities provided here make it the right choice for companies with limited financial resources. It is known for being an affordable solution, but it offers great scalability if companies are able to properly implement it. It is up to the business if they want to implement the overall suit or if they would look for some modular approach to integrate into their businesses.
Regarding pricing, SAP Business One comes with a monthly subscription, and it depends on the number of users. It is a unique ERP solution that operates on both Microsoft's SQL server and SAP HANA. It can be customizable according to the business requirements, which helps people to tailor it to the specific requirements of businesses.
SAP HANA is the next cloud-based solution entirely designed for larger businesses with more stability. It is primarily for companies that have an international scope. This ERP solution is higher in terms of pricing than the SAP Business One but provides more features and functionality. HANA integrates all the critical functionalities businesses require to optimize operations and manage supply chains.
SAP S/4 HANA can be the right choice for larger companies with huge financial resources. The solution helps companies to seamlessly use the functionalities as it is integrated with innovative technologies like Artificial Intelligence, the Internet of Things, Big Data, and Machine Learning. It can significantly improve efficiency and agility.
What are the significant differences between SAP S/4 HANA and SAP Business One?
Even when both ERP solutions can provide comprehensive functionalities to businesses, there are some major differences. These differences can also influence companies to choose according to the requirements.
One of the very first important differences between these SAP models is that SAP Business One is the right choice for organizations with around 500 employees. Whereas, when it comes to HANA, it is the best choice for companies that have over 500 members and are more stable.
The cost and billing solution is other major factor influencing the suitable option. SAP Business One is mainly available in monthly subscriptions, and its cost is relatively affordable for organizations. However, SAP HANA depends on how many people are using the model.
Choose according to your business needs: So you need to understand the needs of your business and understand whether SAP B1 is more beneficial or SAP S/4 HANA. However, choose Cogniscient if you are looking for an experienced implementation partner.