How SAP Business One's Personalized Dashboards can Benefit you?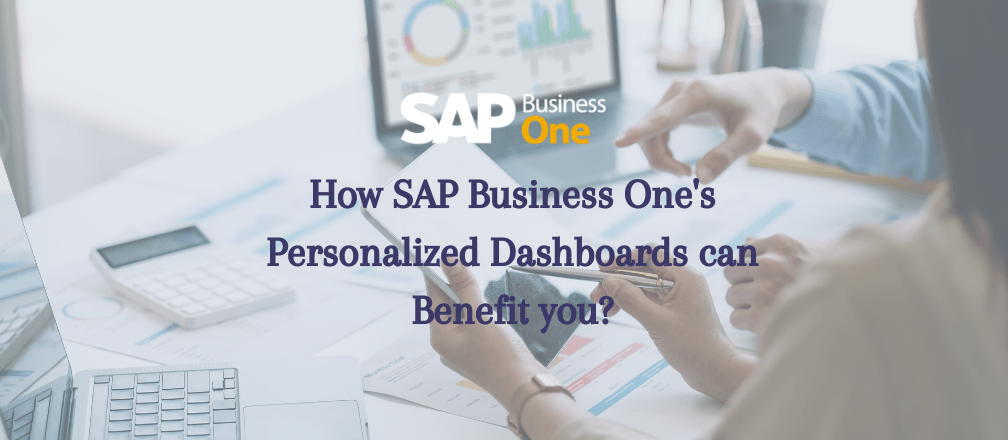 SAP Business One is a very well-known ERP system. It has an intuitive and user-friendly aspect which makes this software a commonly chosen one. Its dashboard gives access to the company data. Therefore, data visualization through a dashboard can be extremely helpful for business users. However, the best part is that now you can customize dashboards to suit different tasks.
The data analytics of SAP Business One is powered by HANA, which allows businesses to experience the in-memory technology. Therefore, it provides a faster turnaround. Additionally, a personalized dashboard can be beneficial for users to pull relevant information when they need it. The power of the SAP Business One platform can provide critical business data. Therefore when combined with business data, this powerful inbuilt visualization tool helps to get a proper picture of various business operations.
As users can make several customizations on the dashboard with the simple drag-and-drop editor, it helps businesses to make informed decisions based on the data.
Users can perform different tasks with the Personalized SAP Dashboards.
It helps an organization to get a complete overview of annual and quarterly results. Generally, it includes the major financial indicators like profit, margin, net profit, and turnover. So, whether it is about finding records or reports or updated financial data, you will always be able to find the results at your fingertips.
The customized dashboard of this ERP solution helps businesses to make informed financial decisions. Since you get access to real-time information, making the right decision for your business becomes easier.
It can be helpful in identifying potential leads, making accurate predictions, and giving the same information to everyone. Therefore, it allows the sales team to make actionable decisions and access information from their device.
It is also beneficial when it comes to improving customer relationships. As you get to know your customer better by taking a look into the data, it can be beneficial in making better deals.
The personalized dashboard of SAP business one helps to keep track of the sales and productivity of a business.
All the teams associated with the business can perform monthly analyses. Therefore, it becomes helpful to stay ahead of the competition by getting access to informed predictions and reach data relevant to the industry.
With personalized dashboards, you can simply analyze a lot of essential aspects associated with business, like warehouses, products, users, suppliers, and several others. Therefore, you can keep track of everything from one dashboard. This will help you to evaluate and keep control of the flow. Additionally, it will also reduce the chances of errors.
Choose the right implementation partner to integrate SAP Business One:
The personalized dashboard can be extremely beneficial for any industry. Since users can personalize according to their needs, it helps them to get the right information. Therefore, the real-time information that you get on the SAP Business One dashboard can become beneficial in business growth by making informed decisions. If you are looking forward to implementing this ERP solution in your business, you can choose Cogniscient. With the best professionals and their team and having knowledge of implementation, they ensure successful integration of this smart ERP solution.