Connect, Support, and Empower Your Employees with

Human Experience Management

Solutions from SAP
One of the important aspects of SAP since 2012 is the SAP SuccessFactors solutions. The solution can be highly advantageous as it optimizes cloud human experience management. This is the new term for HCM. The suite is highly effective in offering your employees the experience where they can recognize their value and motivate them to achieve their goals consistently.
The SAP SuccessFactors Solutions is the Human Experience Management Suite which primarily focuses on the need of the employees to let them give their best. It is not only into providing Human Capital Management with the steps and procedures but is also into offering an individualized experience that is designed to keep happier employees, engaged, productive, and continuously improving.
                What is the  – SAP SuccessFactors Solution?
It is a cloud-based HCM software application that can make sure to handle a range of activities. It easily supports the functionalities that help in payroll and core HR, HR analytics, talent management, employee experience management, and workforce planning. This suite is currently known as the SAP SuccessFactors HCM Suite.
This suite can be highly effective in providing an individual experience which can help to keep employees engaged, productive and happy. Due to the full suite HCM model, this fantastic model could reach more than 200 million users.
       Learning More About

SuccessFactors HCM Suite
SAP SuccessFactors, which is also referred to as "SFSF" or "SF." It is a cloud-based HR tool that can become highly effective for businesses. It is the Human Capital Management tool that uses the SaaS model.
Incorporating the core talent management features and core HR models can offer the best options like customer deployment options. This can be highly effective in offering solutions based on specific requirements.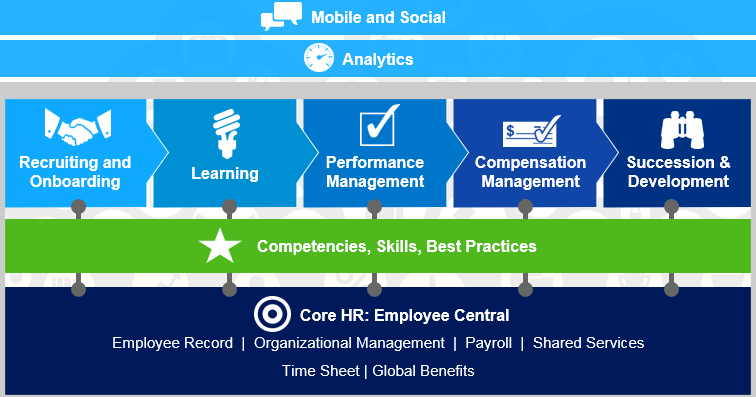 SAP SuccessFactors

Core Modules and Features
The lifecycle of the core HR within the SAP SuccessFactors will ensure better employee management by managing the payroll, data, self-services, ticketing, time benefits, and health. It also makes sure about the privacy and protection of the Employee data. The services and applications offered by the SuccessFactors HCM Suite are something worth noticing.
Employee Central and Payroll Processing
Being a Saas-Based HR Software, this can be a great implementation. It has competency and features to manage the HR requirements effectively. It offers engagement which can be easily aligned with the expectations of modern-day workforces. The user experience and user interface make it a viable choice.
Time attendance and Leave Management
It has the global central payroll. This cloud-based solution can meet payroll needs. Thus, making it the perfect Enterprise HR Software. It offers a maintainable way of managing operations with huge capabilities. Some of the major abilities include integration with 3rd systems and an easy user interface.
The SAP software for HCM has the analytics and reporting tools included in it that ensure making proper use of the workforce data. This is done to give proper support to the HR processes. It is a highly effective suit that can also help in making data-driven decisions by discovering strategic insight.
Performance & Goal Management
Performance and goals is one of the models available in SuccessFactors. This is a highly effective module that can help companies to establish and outperform their objectives, perform calibration and manage performance. With the features, one can be a comprehensive examination for the best results.
Recruitment & On-Boarding Management
Recruiting is another module of the HCM suite of SuccessFactors that has some amazing features which helps to manage recruitments, job postings and marketing recruitment. This is a popular module that can help to track applicants. One can easily manage the recruitment process by automating it.
Users can now easily manage and develop learning contents. This includes the learning programs and concepts by making use of the learning management system. Employees can also use the learning management system to identify and take the courses that are being offered.
The advanced module is highly effective in getting knowledge about your employee. You will be able to pay the employees based on their achievements. You can start the pay for performance culture and get the best talent in your organization. This will not only help you to retain the best but improve productivity in the organization.
Now you can make informed decisions about the staff. You can plan the staffing requirements and make sure that you find the best employee in every level. Start aligning learning activities based on the competency gaps. This will be highly effective for both future and current needs. Continuous development and planning can motivate employees.
Making use of the comprehensive information available, you can create strategies. These strategies can be helpful in improving the overall business success. You will also be able to make informed decisions by analyzing impact, mitigating risk by taking prompt actions.
Choose an Experienced SAP SuccessFactors Implementation Partner
Talk to our certified experts
Get in touch with us and let us become your SAP SuccessFactors Implementation Partner to migrate and implement in your business environment.
Cogniscient Business Solutions-
SAP SuccessFactors Implementation Partner
With the multitude of features included in the HCM suite of SAP SuccessFactors, it can become a great inclusion. The fantastic components included in the HCM Suite can become highly beneficial in ensuring business success. It has AI-powered analytics and a strategic workforce enabling businesses to make informed decisions.
Choosing Cogniscient can be a beneficial choice as we have the professionals to offer unmatched SAP SuccessFactors implementation services. By understanding the needs of your businesses and employees, we implement the SuccessFactors HCM Suite that enables making strategic decisions. Having knowledge of the core functionalities, this powerful suite can be highly effective in fostering organizational agility and employee productivity.
Cogniscient has the ability in the team to easily migrate the system to the SAP SuccessFactors, which is a cloud-based model. This SaaS HCM Suite can support the workforce in today's evolving world.