What is The Business Benefits of SAP Business One?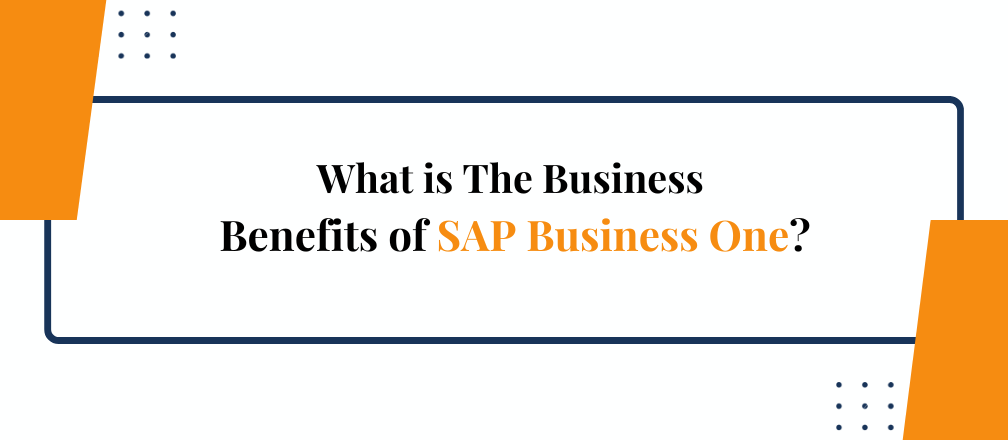 If you plan to consider investing in SAP Business One ERP software you might well have some questions. You definitely have not just thought about it but have considered it after finding several details. So, if you were in a question before making your initial investment, it is better that you have the answers.
SAP Business One is an ERP solution designed for businesses of all sizes. Irrespective of your business vertical, Business One ERP software can have a lot of benefits. Whether it is about unifying departments in your businesses by making central data or you want to manage resources, warehouses, and inventory better, SAP Business One certainly has a solution for you.
What is an ERP solution?
ERP is also known as enterprise resource planning. It is a management system that can easily streamline different business processes. This ERP software is a collection of systems and applications for helping organizations centralize and collect data from other locations and departments in one place. Whether handling, shipping, production and manufacturing, finances, administrative jobs, warehouse and inventory management, SAP business can handle everything one-handedly.
Running a business can be hard when you need to control and monitor everything separately. So, by implementing ERP solutions like Business One can easily unify different operational sections and collect data in one platform. It centralizes all the information so that you can get the correct information. This way, not only management becomes easier, but also you can make informed decisions for your business.
What are the advantages of choosing SAP Business One?
Implementing SAP Business One will help to improve the business results massively. The following are some significant benefits of choosing the SAP Business One ERP solution.
If you want to cut costs and improve your profit margin, you need to be very strategic. You can do it by using the SAP Business One ERP solution. This software can reduce administration and operation costs by gathering real-time data, streamlining financial data, and reducing redundancies. This information makes it easier to prevent disturbances like shipping delays or low inventory.
Improve business collaboration:
The only way a business can survive is by collaborating with every single department. Remember that it will become tough to manage if there is no synchronization between the departments. This is one of the prime mistakes new business entrepreneurs make as they fail to keep a sync between departments. So, implementing SAP Business One in different aspects of your business can foster collaboration and collect essential data.
With all the data you gather daily, you can make beneficial decisions for your business. However, data management is one of the most tedious tasks. It requires human effort to keep every data from every department in place. However, integrating SAP Business One and different sections of your business can integrate processes and collect data in one place. So all the information that you require is in a centralized location. Therefore, it can improve data management even if you are a one-man army in your business.
These are some of the most important benefits of choosing SAP Business One. However, if you're looking for a reliable SAP B1 implementation partner choose Cogniscient.