2023 Manufacturing Trends: How to Get Ready Now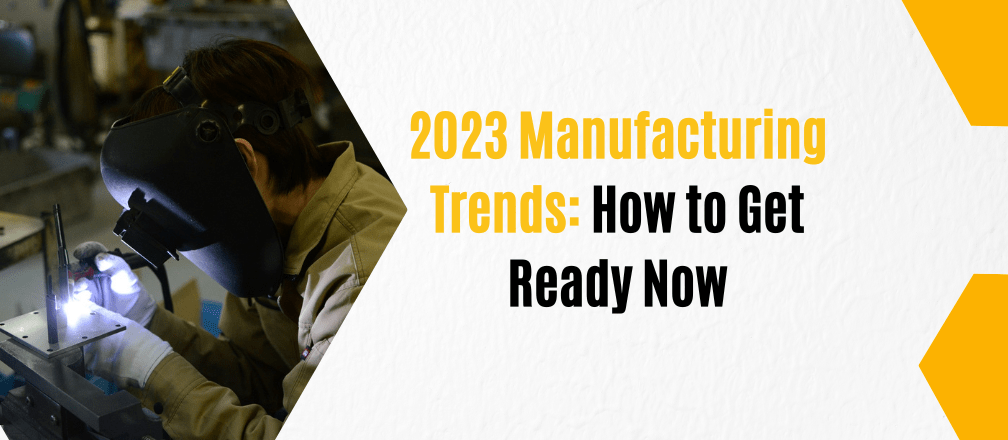 2022 was a great year with some disruptive and positive changes for manufacturing industries. Even after the pandemic hit, challenges faced by the supply chain, recession fears, economic instability, and complexity in the labor market, manufacturing companies are surviving and evolving with this new normal. Primarily, it took a lot of work for the manufacturing industries to manage the changes, but with the passing day and innovative technology, it is becoming possible to go hand-in-hand with the trend.
Industry 4.0 was greatly helpful in transforming several manufacturing businesses in 2022. This helped manufacturing industries to quickly get along with the advanced technology and embrace even more intelligent automation technology with improved business connectivity. However, as 2022 has passed and we have stepped into 2023, let's look at the manufacturing trends of this year.
Manufacturing trends in 2023
Domination of the Internet of Things:
In the past years, only computers were the devices that could connect to the internet. However, today our home is packed with advanced appliances like cameras, alarms, smart televisions, and a lot more that can connect to the internet. It has been predicted that more than 43 billion devices will be able to access the internet this year.
IoT is the top trend that manufacturing industries are going to see. It will help enterprises make better and informed decisions, increase operational efficiency, provide safety, and assist in cost reduction and several other aspects of manufacturing processes. In a recent study, it is studied that almost 31% of production will leverage the efficiency of smart devices. Incorporating IOT technology and operational procedures will be helpful, and 34% of manufacturers are planning to do so.
Next-generation SAP ERP solutions:
ERP has been around for a long time. It has now become a necessity due to its extreme ability to automate several business processes. The next-generation SAP ERP solutions will be able to streamline the operational processes, automate monotonous business tasks, reduce costs and give real-time details about production.
These SAP ERP software programs help manufacturers better use the systems and offer faster results. Some advanced SAP ERP initiatives and the following.
Cloud ERP: Cloud ERP is nothing new, as companies will now be able to store their essential data in the cloud. More companies are leveraging the benefits of the cloud SAP ERP solution and transferring their data to cloud storage. Hence, it becomes easier for companies to manage and reduce costs. In 2023, it can be expected to get more options for customizations and growth.
Automation and artificial intelligence: The manufacturing industries generate lump sum data every day. However, only a small percentage of the entire data generated is used. Implementing SAP ERP solutions and AI can accelerate data processing to make it even more efficient. AI-powered and automation can help manufacturers eliminate tedious processes, reduce waste, improve the management quality and production time.
Mobile ERP: Mobile ERP solution will be helpful for employees to access and make customer communication in no time. The apps offer real-time data and have been designed with great features to improve businesses.
If you want to implement SAP Business One for your small business or the latest solutions, get in touch with the team of Cogniscient.