Best Ways to Add Value to your Discrete Manufacturing Business with SAP Business One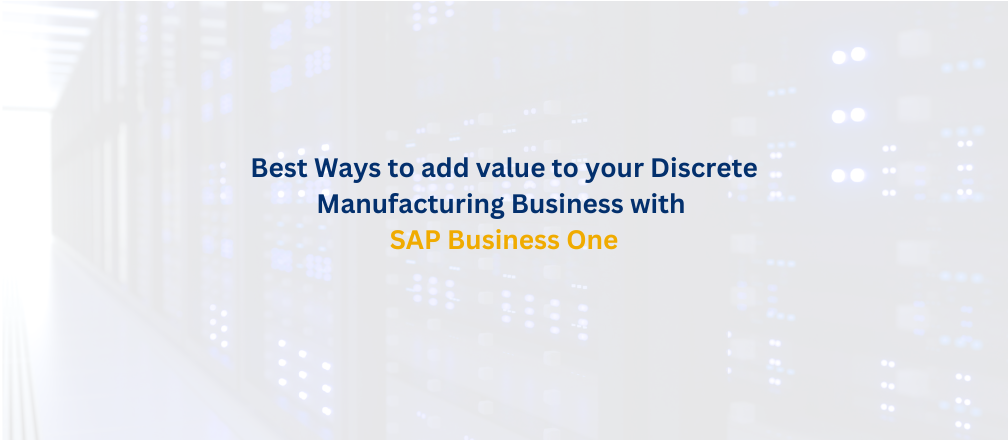 The success of discrete manufacturing is through leveraging data by maintaining its efficiency and quality. Therefore, most of the discrete manufacturers are in search of solutions that offer great benefits on the floor. This is where most business leaders have turned to ERP systems as they realise the benefits of SAP on production. SAP Business One tends to be one of the most used solutions for businesses, especially manufacturers.
SAP Business One ERP solution is known to be a management solution for your business. With this system, you can automate several business functions with the integrated application that is already available in your department. The broad modules on SAP Business One support scheduling, production control and planning activities for manufacturers. Additionally, it has different manufacturing modes to suit different environments.
With this ERP solution, you can constantly get transactional updates to make smarter and more informed decisions.
Why SAP Business One Can Be Beneficial for Discrete Manufacturers:
BOM management
One of the major features of discrete manufacturing is that these goods can be categorized into different parts that are managed using BOM or Bill Of Materials. Hence, it is essential for discrete manufacturers to properly implement ERP solutions which have the capability to handle multilevel and complicated BOMS. SAP Business One is one of those tools that not only ensures fulfilling the requirement but also consists of add-ons to ease the process.
Better production scheduling:
It is inevitable that there will be roadblocks in the production line when you are following a manual system for scheduling and planning. Complex production scheduling requires real-time data and comprehensive analytics. With advanced software like SAP Business One, it becomes easy for businesses to compile data in a centralised hub. Therefore, from here, manufacturers can get all the critical information, which will be beneficial in scheduling and controlling the operational pace.
Business intelligence:
Apart from making sure to enhance customer communication, one of the major aspects of SAP Business One is improving communication. It fosters fast operations with fewer errors in order to reduce business costs. Therefore, SAPB1, with a centralised database, helps to keep everyone associated with the production integrated into the business. Therefore, it allows employees to find real-time data and get the current status of the inventory. Quicker and easy access to data is one of the major requirements that can be fulfilled by SAP Business One.
Improves competition:
As employees spend less time entering data manually, there are fewer chances of human error. Therefore, it is possible for businesses to get the real count, which will help to deliver high-quality products and ensure satisfaction. This is extremely required in today's market when competition is high. As customers have several options, they're constantly looking for businesses that pay attention to customer satisfaction. With SAP Business One, not only will be able to scale and get a competitive edge but also ensure customer satisfaction by providing instant access to real data and information.
Conclusion:
So, these are some of the most common advantages of choosing SAP Business One for discrete manufacturing businesses. In order to make sure that you're able to leverage the ultimate potential of this advanced ERP solution, it requires proper implementation. Choosing Cogniscient would be beneficial as they have some of the most seasoned experts with diverse knowledge of SAP Business One implementation. As they understand the need for proper implementation in different processes, they make sure to fulfil the requirements and offer accurate solutions to enjoy the ultimate benefits.