Benefits of Implementing SAP Business One ERP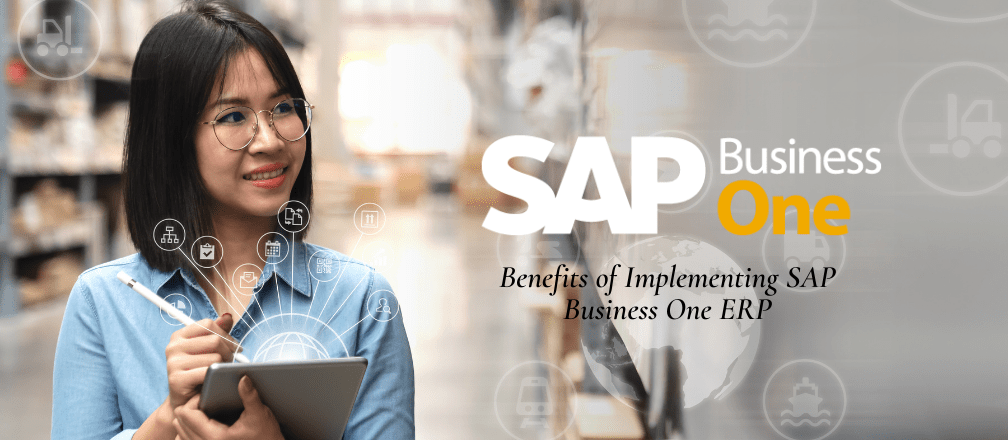 Benefits of Implementing SAP Business One ERP In Your Business. A lot of businesses are under the impression that SAP software is only suitable for enterprises and large corporations. But SAP Business One ERP gives your small business everything that enterprises use to make their business smarter and better.
5 Benefits of SAP Business One ERP
From automating your business to boosting profitability, the benefits are innumerable. So, our experts have prepared this list of top 5:
1. Reduce resource obstacles
In the old days, you would have to hire dedicated data engineers and analysts to interpret the fragmented data and turn it into something meaningful for decision-making. With SAP, you don't have to follow the same path anymore.
SAP Business One ERP is a cloud-based software suite that offers everything in a single dashboard – insights as well as reporting that you can dissect. These insights help you to meet market demand and boost business. By not needing dedicated human resources, you save time as well as money.
2. SaaS-based pricing
Traditionally, you have to give an upfront cost to implement the ERP into your business. That is called capital expenditure and is comparatively difficult for a small business to manage. The SaaS-based pricing model of SAP ERP eliminates this obstacle.
SaaS pricing allows you to use the suite in your business for a monthly subscription price. That way, the ERP comes under operating expense that is comparatively lower, easier to afford, and gives the business the flexibility of upgrade.
3. Better business processes
SAP is an end-to-end business process management suite. So, it is obvious that you will be efficient. But how much better? You can estimate it by seeing that Business One ERP automates and manages vendor management, supply quotes, purchase orders, invoices, accounting, cost optimization, etc.
The software provides all the data in a single dashboard where you can easily see, analyze, and interpret the data. The easy reporting allows you to use the information for better decision-making.
4. Understand your customer needs better
Every business revolves around its customers. Happy clients bring in more clients. How does ERP help you with that?
By synchronizing sales and customer relationship management with the whole business, you can track a client's journey right from the start. Hence, this makes sales and marketing activity simpler and better aligned with each other which makes a client's journey easy. This way, you understand your clients better and can serve them exactly what they need and when they want.
5. Easy to access
Unlike traditional ERP suites, SAP ERP does not require extensive study and training for your employees to be able to use it. Almost everything can be found on SAP's online forum. Moreover, the suite can be customized to your existing hands-on experience so that it does not feel like a big shift moving to a digital suite.
Conclusion
Cogniscient Business Solutions is a leading SAP Business One ERP implementation partner. To know how we have helped grow hundreds of businesses with SAP ERP and how we can help you too, schedule a call with our team.