SAP Business One ERP Cost Breakdown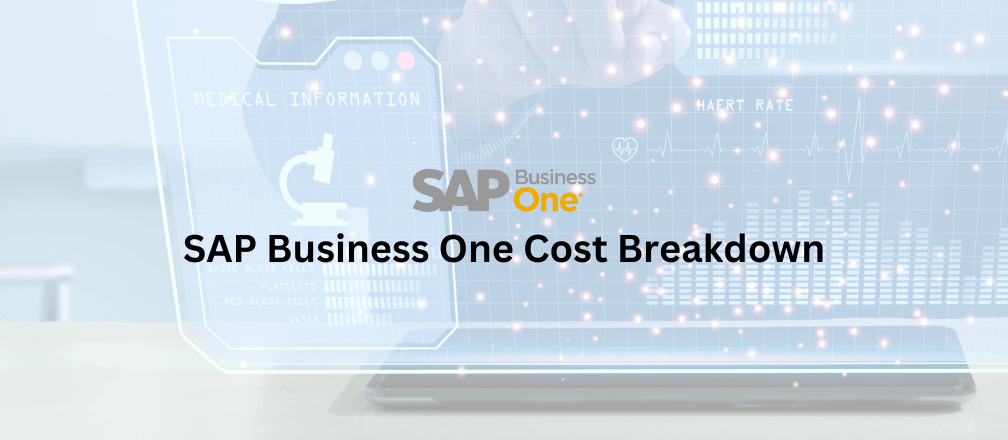 By now, you definitely have heard about one common misconception regarding SAP Business One. One is that it can be very expensive for any startup or small business. There are multiple misconceptions about SAP that you need to burst. One of those is how much it costs to implement SAP Business One. Whether you own a small business or you want to implement SAP, the answer is it is definitely not true. And henceforth, more than 60,000 SMEs have already implemented it.
If you're eager to understand the cost of SAP B1, you must pay attention to other factors that matter. The very first thing that is crucial to keep in mind is that SAP Business One is a scalable solution and not only for entry-level companies. There are many such customers of SAP Business One that have four users from a single location, which is scalable to up to hundreds of users from different parts of the globe.
Compared to any other applications that business is generally used for sales, finances or CRM, SAP Business One is known to be a breakthrough solution as it is packed with features and provides an end-to-end solution with all the necessary features.
A Breakdown of the Cost
1. Cost of Implementation
The implementation cost is one of the major things for using SAP Business One. A project takes somewhere between 30 to 80 days to complete. However, it strongly depends on the solutions, complexity and size of your business. When it comes to implementation, workshops and user training, the SAP partner offers sessions to let the team use and maximise their productivity. The implementation charge will greatly vary according to the SAP partner that you are choosing and along with the location.
2. The Cost of Software
There is a need for every user to own their license. In order to access this SAP ERP solution. The license will let you access its features and functionalities. Choosing a limited license will cost you around half the price, which makes it ideal for people who need particular models for their organisation.
Cloud-based subscription models generally begin from £47 for every user in every month. The price might vary according to your location. But, you need to keep in mind that the prices of cloud subscriptions will depend on the user accessing it. In terms of on-premise hosting services, you might get huge discounts.
Therefore, getting in touch with a reliable SAP ERP provider would be beneficial to get the right quotation according to the number of users. The price estimation will help you to understand the amount. However, the companies might require certain information before giving you the estimation.
3. Hosting
The cost of hosting is dependent on the way you choose the host solution. Businesses that use cloud hosting services decrease the environmental cost with an increase in the user count, similar to the license cost. However, for businesses that prefer on-premise solutions, there are several other costs that will add, like external hardware and setting up an IT infrastructure. Along with this, the maintenance contract is essential in order to get access to all the latest updates and acquire emergency assistance.
SAP Business One is known for being a scalable model, as you can customize it according to your business-specific needs. However, if you are in search of a reliable SAP B1 partner, you can choose Cogniscient. With decades of knowledge and offering both on-premise and cloud hosting services, they ensure fulfilling your unique needs.