Check How SAP Business ByDesign Could Be a Best Fit Cloud Suite for Project Management Companies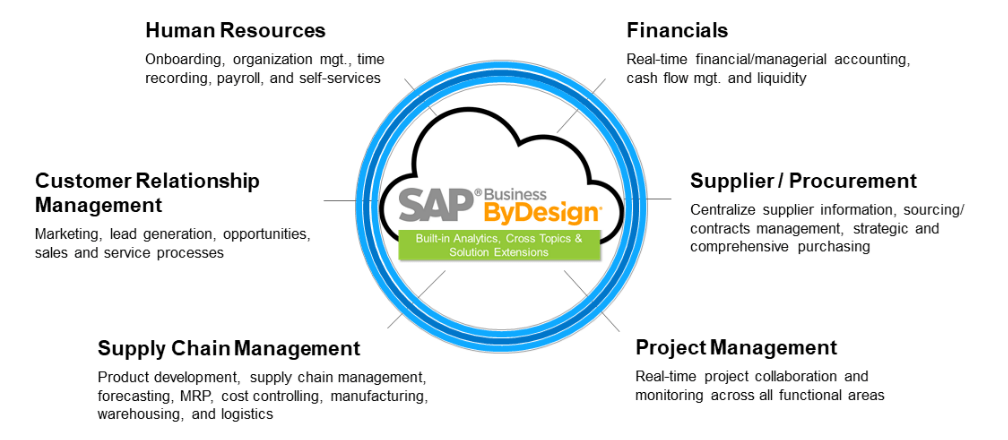 PMI (Project Management Institute) in 2018, in their report titled "Success in Disruptive Times", said that only 58% of businesses understand the value of project management. If you are one of those in the remaining 42%, then you definitely need SAP Business ByDesign Cloud ERP software solution for your project management.
We recommend SAP Business ByDesign for this. Why? Let us explore.
Things Project Management Needs
Every project manager, software-dependent or otherwise, wants the following parameters to be fulfilled in their business:
Completing the project on time
Satisfying the customers
Reducing the cost of the project
Optimum use of resources
Minimum inefficiencies in the system
Scope of SAP Business ByDesign
All of the above goals are met with this software solution. It has several integrated project management modules designed especially for project management businesses.
You can use it for:
Sales,
Customer management,
Marketing,
Research and development, etc.
Not only this, but the solution also uses diagrams and graphical tools. This allows you to keep track of multiple projects simultaneously.
It Aligns With Project Planning
Through Gantt chart
Through phase planning
Through activity planning
Through checklist planning
The solution allows you to prepare the structure of the project with the WBS hierarchy and network process flow. You can assign team members to a project and calculates sales quote.
Moreover, SAP Business ByDesign gives you the option of placing purchase orders from within the project activity. It also allows you to create a new material requirement, that too from within the project activity.
Cross-Process Integration
It is obvious that you wouldn't want to implement any software in the system if it cannot work in sync with your existing ones. Don't worry on that front. The solution supports all major cross-department integrations.
For example, you can integrate it with:
Spreadsheets for analytics
Finance to keep up with budgeting
Logistics to know about the material
And all this for no additional cost! Everything comes with the pre-packaged solution.
Additionally, SAP Business ByDesign Cloud ERP offers you the freedom of project prioritising. What does that mean? It means that whatever projects your company is dealing with right now; the software uses real-time insights and analytics to help you prioritise projects.
Corporate strategies and business goals affect this. This helps you to plan financial needs and human capital requirements in advance for the project! When you get the needed resources on time, then there is a little to zero probability that the project will deviate from the defined timeline. Isn't that what all project management companies want?
Modules Offered for Project Management
Finance management
Customer relationship management
Human resources management
Procurement management
Cost management
Customer quoting
Expense management
Material requirement management
Supply chain management
Looking For Additional Help?
For more information about SAP Business ByDesign, contact our Solutions expert.