ERP Comparison: NetSuite & SAP Business One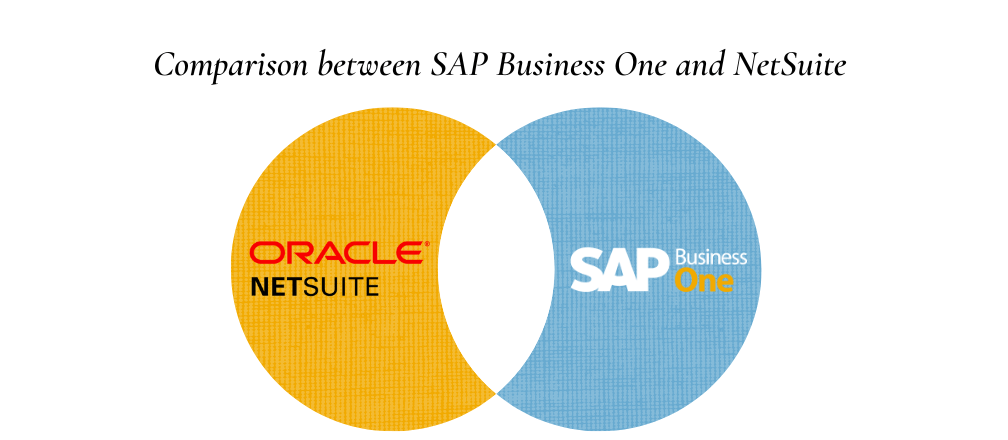 NetSuite and SAP Business One are both popular Enterprise Resource Planning (ERP) solutions used by businesses to manage various aspects of their operations. While they serve similar purposes, there are differences between the two systems in terms of functionality, scalability, and target market. Let's compare NetSuite and SAP Business One across different aspects:
Company and Target Market:
NetSuite: NetSuite is a cloud-based ERP system developed by Oracle. It caters to small, medium, and large enterprises across various industries, including retail, manufacturing, wholesale distribution, and e-commerce.
SAP Business One: SAP Business One is an ERP solution developed by SAP, primarily designed for small and medium-sized enterprises (SMEs). It offers comprehensive features that are suitable for a wide range of industries.
Functionality and Features:
NetSuite: NetSuite provides a broad range of functionalities, including financial management, inventory and order management, customer relationship management (CRM), e-commerce, and project management. It offers a unified platform with modules that can be customized to fit specific business needs.
SAP Business One: SAP Business One offers features for finance, sales, customer relationship management, procurement, inventory, and manufacturing. It provides robust accounting capabilities and integrates with other SAP solutions for more advanced functionalities.
Deployment and Scalability:
NetSuite: NetSuite is a cloud-based ERP system, which means it is accessible through a web browser and requires no on-premises infrastructure. It offers scalability, allowing businesses to add or remove modules as needed and accommodate growth.
SAP Business One: SAP Business One can be deployed both on-premises and on the cloud. This gives businesses the flexibility to choose the deployment option that suits their requirements. It can handle growth to a certain extent but may require additional hardware and infrastructure for larger implementations.
Customization and Integration:
NetSuite: NetSuite offers a high level of customization, allowing businesses to tailor the system to their specific needs. It has SuiteCloud development platform that enables the creation of customizations, extensions, and integrations with other applications.
SAP Business One: SAP Business One also supports customization and provides a Software Development Kit (SDK) for building custom functionalities. It integrates well with other SAP solutions, such as SAP Analytics Cloud and SAP Business Warehouse, enabling comprehensive data analysis.
User Interface and User Experience:
NetSuite: NetSuite has a modern and intuitive user interface with a consistent design across its modules. It offers a user-friendly experience and provides customizable dashboards and reports for different user roles.
SAP Business One: SAP Business One has a straightforward interface that is easy to navigate. However, the user experience may vary depending on the specific version and customizations implemented by the organization.
Pricing:
NetSuite: NetSuite's pricing structure typically includes a recurring subscription fee based on the number of users and the modules selected. The cost can vary based on the level of customization and additional services required.
SAP Business One: SAP Business One's pricing varies depending on factors such as the number of users, deployment type, and specific requirements of the organization. It typically involves an upfront license fee and ongoing maintenance costs.
Write Up
When choosing between NetSuite and SAP Business One, it's essential to consider your business size, industry, required features, customization needs, and budget. Evaluating demos, speaking with vendors, and consulting with implementation partners can provide further insights to make an informed decision based on your specific requirements.