Myths and Truths about SAP Business One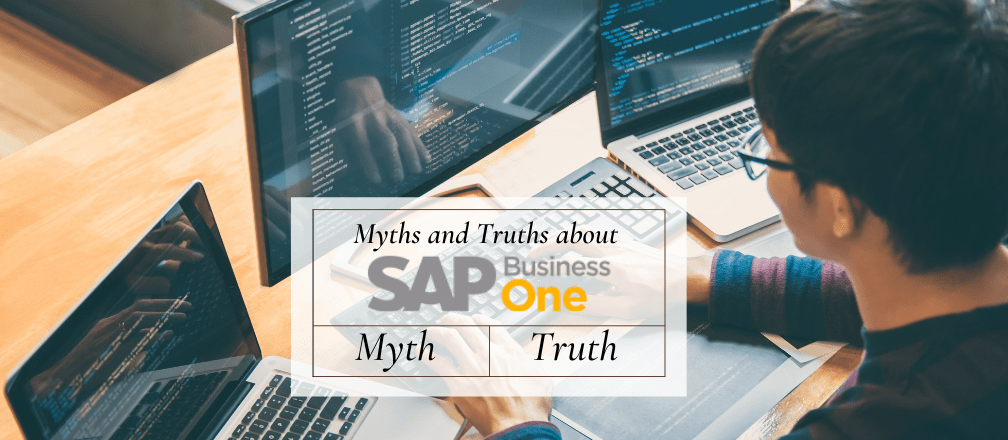 SAP Business One is one of the most widely used ERP suites by businesses around the globe but that also makes it subject to a lot of myths that circulate among people. Hard to use, expensive, and complex are some of the most common myths around this suite.
Let us bust some myths and show you that this is the best investment for your business and there is nothing to worry about.
Myths about SAP B1
The top 5 myths and the truth around them are as follows:
1. Too big and expensive
Since SAP has the largest chunk of the market share when it comes to ERP, it is often assumed that their ERP is only for the big giants and corporates because it must be too expensive for the small and medium businesses to afford.
Truth
The SAP Business One software is developed especially for SMEs. The scalability and customizability of this suite make it an ideal choice for middle-sized and small companies because you only pay for the module that you use and you can upgrade with a simple license purchase as the business grows.
2. What'll happen to my existing data?!
"Since SAP is a giant corporation, it will force me to use their tools for everything and any data that I have on other software systems are now just useless for me.", is another myth that people have when it comes to SAP ERP.
Truth
SAP offers integration with several third-party applications and you do not have to necessarily opt for the same corresponding module. Further, all your current data from old systems can be easily migrated to the new HANA in-memory database. All your data can be synchronized between different software systems.
3. Implementation time is too long
Another misconception about SAP Business One implementation is that since you are transforming the entire business process to SAP, it will take so much time that you will lose more money than you can earn. That is nonsense and not at all true.
Truth
SAP implementations take a couple of weeks to implement and your business will be up and running in the new system in no time. While there are a lot of factors that determine how long implementation is going to take, a good SAP implementation partner like Cogniscient Business Solutions can do that in considerable time.
4. I need to buy the whole package
People think that they need the whole package at one go or the ERP suite won't function properly. This is a baseless myth and not true.
Truth
SAP is easily customizable and you only need to pay for those modules which are helpful for your business needs. The systems are absolutely fine with even 2 modules. Such customization also helps you save a lot of money.
Conclusion
SAP Business One is a comprehensive ERP suite that you can scale as your business grows. Cogniscient Business Solutions holds extensive experience in the digital transformation of hundreds of businesses and we can help yours too. Learn more by SAP Business One license cost in Dubai .