SAP Business One 9.3 new features-and-updates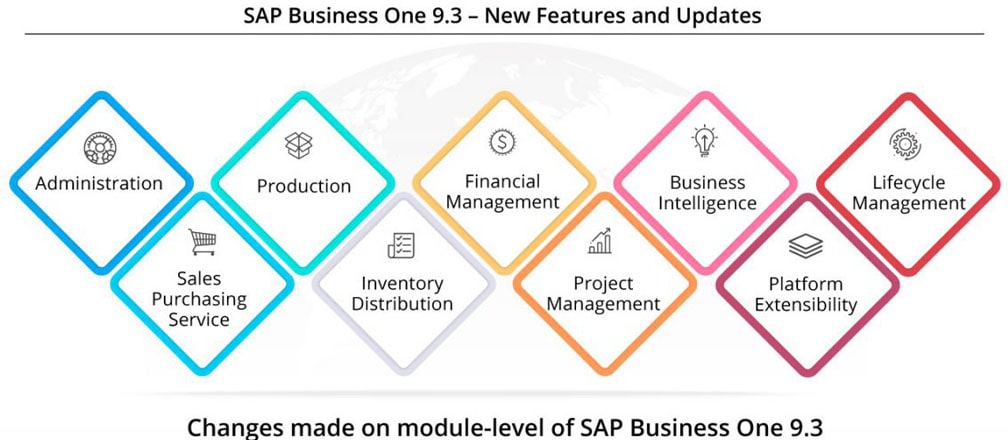 SAP Business One (ERP) system is designed to be a flexible and extensible solution for any business requirement. The application is available on premise or on demand, with standard interfaces to internal and external data sources, mobile devices, and other analysis tools.
SAP Business One has surged to heights with its rigorous development and various functionality-based improvements via a patch and major releases. SAP Business One 9.3 will prove to be more helpful to businesses in many ways. In this blog, the updates are mentioned module-wise. SAP Business One will not only optimize to improve performance and stability but also expand the core processes of the business.
Important areas covered in SAP Business One 9.3
• Addition of simple production routing
This new routing feature of production module gives businesses the ability to plan, execute and manage basic route based production. This will be valuable for organizations with Light Production necessities; already such organizations may need to put resources into an extra. Furthermore, workers can be appointed to a Cost Center.
• Return Merchandise Authorization management (RMA)
It's a record issued to despondent customers who need to restore a bought item.
• Project management updates
Now SAP Business ByDesign and SAP Business One users have a holistic overview of projects and detailed information related to each project and increase productivity and transparency and the billing wizard streamlines the standard billing or milestone billing process and helps improve efficiency.
• Simplifying and streamlining CRM processes
SAP has centralized the CRM module; making it easily accessible under the Financials module. SAP Business One version 9.3 gives users the ability to assign activity to multiple users, removing the need to create an activity for each individual user. Ultimately this enhances usability and increases productivity
• Centralized Payment Engine
• GL account determination updates
Changes made on module-level of SAP Business One 9.3
Administration
Authorization Simplification
Import from Excel Updates
Approval Procedure Enhancements
Quick Copy & DTW supports Additional Objects
My Settings Support
Change Log Clean-up Utility
Multi-Branch Supports Data Ownership
Multi-Branch Filtering & Transaction Updates
License Updates
HTML based Online Help
Sales | Purchasing | Service
Return Merchandise Authorization (RMA)
Gross Price Redesign
Price List Updates
Campaign Management Updates
Blanket Agreement Enhancements
CRM Simplification
Production
Simple Production Routing
Inventory | Distribution
Financial Management
Internal Cost Accounting Transactions
Centralized Payment Engine
Chart of Accounts Alignment & Usability
G/L Account Determination Matrix Updates
New IFRS 15 Revenue Recognition Standard
Multi-Branch Filtering and Transactions
Scheduled Batch Transactions for Payments
Electronic File Layout Templates
Project Management
Project Management Updates
Business Intelligence
Analytics Portal
Pervasive Analytics Designer Update
Platform | Extensibility
Web-Based Workflow Management
Company Specific Mailer Configuration
New DI/UI Objects Exposure & Enhancements
Microsoft Visual Studio 2015
X-App Supports Single Sign-On
Optimized Login Connection
Electronic File Manager support on Linux
Performance Optimization
Improved Security
Lifecycle Management
SAP Business One Components
Embedded Incident Reporting
System Landscape Directory Enhancements
Remote Support Platform 3.2 Updates