SAP Business One ERP for Construction Industry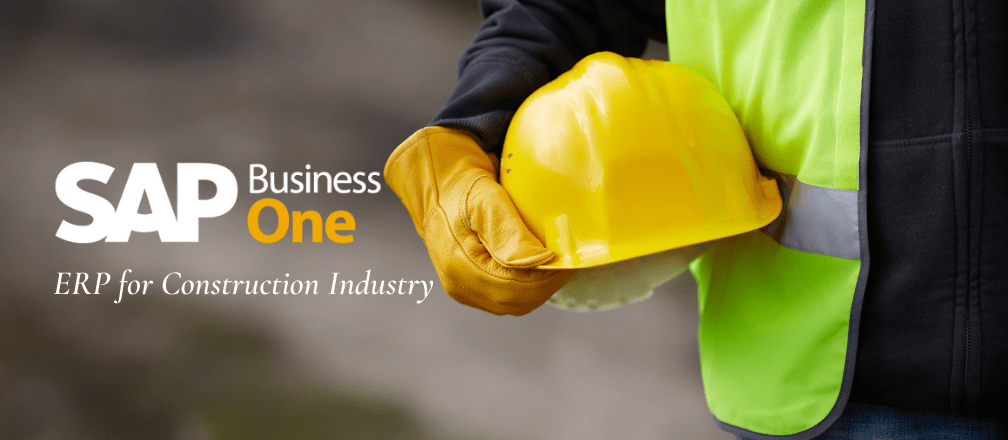 Confused About Investing in SAP Business One ERP for Construction Industry? This Will Clear Your Doubts.
Every successful business has three things – favorable market conditions, a great team, and the right tools to make everything work. And the same applies to the construction industry as well. Yet, business owners like yourself are facing issues with scheduling, project planning, inflexibility, etc.
SAP Business One is an ERP suite that makes your business efficient, profitable, and better by eliminating these challenges.
But how exactly does that happen? Is the tool too expensive for you to buy? Is this the right time to invest in a tool like this? We'll answer all these questions for you.
Think about it, what does it take to make your construction business profitable? Having the right service for the right clients at the right time, right? And to do that, you have to deliver projects on time and at a lower cost than the competition.
You get these two things right and the business is booming. This is exactly what SAP and we want for you – a booming business with gold raining from the sky.
What you need vs what SAP gives
When you go out in the market looking to buy an ERP, not necessarily something like SAP Business ByDesign, but any ERP, you'll notice that there is a huge difference between what you want and what you get.
Why? Because most of these suites are end-to-end, they come as whole packages. SAP Business One ERP for Construction Industry on the other hand, are customizable, you only need to buy the modules that are needed in your business right. As the business grows, you can add modules with the rising needs. This makes the tool affordable and scalable.
What benefits do you get when you contact an SAP Business One Partner in Dubai?
Hundreds of them. But here are the top ones –
1. Contract & invoice management
In this line of business, you need to have error-free records of the contracts and invoices.
This ERP suite lets you keep a track of them digitally. With this software, you can manage invoices, contracts, and process documents in a single place & access them from anywhere, any time.
2. Material management
Two situations are very bad for your business – having less material than you need and having way too much material than you need.
This can be avoided with SAP ERP. The tool keeps a track of your purchases and manages your inventory so that an economic order quantity is maintained to avoid understock and overstock.
3. Customization
You may be thinking that if you customize the tool for your needs, then it'll cost a fortune and that it is not the right investment right now.
But the SAP Business One Price in Dubai, or anywhere else, depends on the modules that you opt for. Only add those modules that are needed for your business.
Conclusion
Opting for SAP Business One will be the smartest decision for your construction business. Congniscient Business Solutions has helped hundreds of businesses scale the path of growth in months and we can help you too. Scheduling a free consultation call with us to know more.