SAP Business One ERP for Garment, Apparel, and Textile Manufacturing Company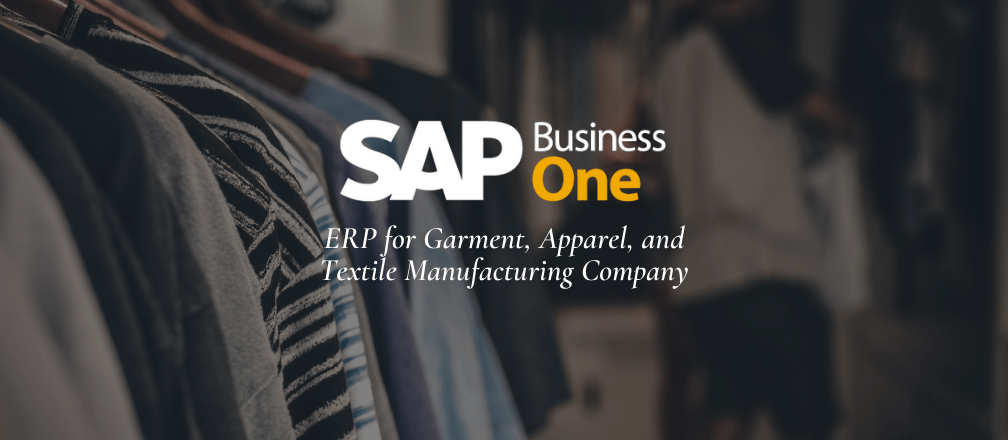 There are three things that humans always need – food, shelter, and clothes. Perhaps this is the reason why the garment manufacturing industry is worth more than $3000 trillion. Any business that is a part of this boom must need a reliable tool like SAP Business One ERP for Garment Manufacturing Company to manage everything.
SAP Business One is a software suite that fits the description perfectly – scalable, affordable, powerful, and intelligent. In this blog, we will tell you why you should invest in this suite to make your business an intelligent business.
Does the garment industry need SAP ERP?
There are a lot of components of the textile industry and the garment is one of the most prominent ones. And did you know that the textile industry is the second largest industry in the Middle East after oil?
What affects garment production? Seasonality. Global demand. Operating cost. Weather. Climate. And can you control these? You can monitor weather & climate to see what season you can cater to for the global demand for clothing ending with controlled operating costs and profits.
And in this quest, having an SAP Business One Partner in Dubai is the best choice. Because it is the best tool to do all this and much more.
What makes SAP suitable?
Here are some of the most common problems faced by businesses in this industry that is addressed by SAP:
1. Toned down integration
There are many processes involved in the garment industry. What is more difficult is the need for synchronization between various departments like fabric, sampling, cutting, sewing, QA, finishing, packaging, accounts, etc.
But when you get SAP ERP Implementation in Dubai for your business, all your modules for each process are integrated into one fully integrated software.
2. Lack of time management
You know how most manufacturing outsets are – loud, bustling, and constantly moving. That means so many things to take care of. Consequently, reporting in real-time is not possible because by the time data reaches the analyst, it is already old.
But this ERP presents all the data in real-time so that you can view data on demand. It is a solution that makes collaboration easy.
3. Data security
A lot of people think that data security is only what elite software suites provide. That is not true. SAP Business One Price in Dubai is one of the most competitive & affordable ones for the kind of tool you are getting.
Anyway, SAP Business One ERP for Garment Manufacturing Company software keeps all your data safe and encrypted from any outside access. You don't want to share purchase orders, sales orders, fact sheets, your HR files, and employee data with anyone. This tool offers you data storage with protection allowing you to access the storage anytime, anywhere (the same feature is in SAP Business ByDesign as well).
4. Inventory management
Have control of your inventory and the stock with the help of SAP Business One ERP for Garment Manufacturing Company so that you can meet customer demands on time and establish trust & reliability.
Conclusion
Cogniscient Business Solutions has helped hundreds of businesses become brands with SAP Business One in their ecosystem. Know how we can help you by scheduling a free consultation call with our experts.