SAP Business One ERP for Warehouse Management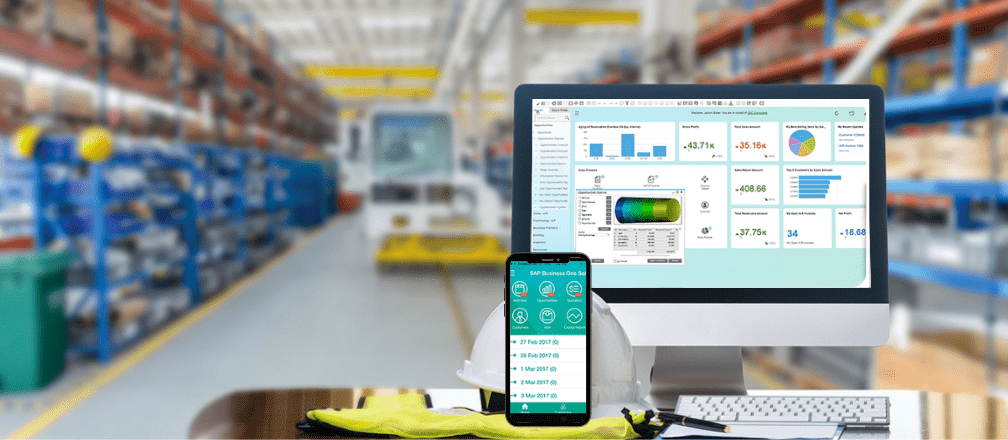 Everyone wants their business to run smoother, faster, and simpler. And taking the help of technology to achieve this objective makes sense to all business owners like yourself. But you are confused about adopting SAP Business One ERP for warehouse management.
In this blog, we will discuss if this SAP tool is the best investment for your needs.
Overview of warehouse management software
It is important to know what exactly warehouse management software does so that we are aligned to the same understanding.
At the onset, this tool helps you to streamline your inventory. With a better inventory, you get an improved production process. Also, the software dynamically updates the quantity and price of the goods after every transaction.
So, it is a cycle that ultimately leads to more efficiency and more profits.
Why SAP Business One ERP for warehouse management?
Integrating SAP Business One ERP software with your business process has a lot of benefits which include, but are not limited to, reliable shipment tracking information, cost optimization for material ordering, synchronized inventory tracking, etc.
Some of the modules that SAP offers making them the best ERP for your warehouse worries:
1. Valuation
You have to let the software know what kind of product movement you are using. Most commercial software packages offer a separate module for these valuations. But SAP offers all methods in their module – Moving Average, FIFO, Standard Cost valuation, and Batch Valuation Method Cost.
2. Warehousing
When you have multiple warehouse locations, you would want all of them to be in sync with each other. With a software tool like SAP B1, you can see major vendors in the area, ETAs for delivery from the vendors, and a pricing list. This way, whenever you have to place an order, you can check the warehouse data and best price within minutes.
3. Multi-bin functionality
One of the best features of using SAP Business One ERP is that it provides you with multi-bin functionality. What's that? Warehouses have multiple bin locations (or sublevels) which can be aisles, zone, shelf, or area. SAP lets you manage all these bins from within the software.
4. Cycle count
You have to perform cycle counts to make sure that you have the physical stock as mentioned in the SAP software. The advantage is that SAP ERP lets you do that while orders are being received or shipped. The SAP software automatically updates the new existing items with the appropriate cycle count and the concerned personnel will be notified.
Conclusion
This blog only talks about a fraction of all the things that SAP Business One ERP for warehouse management can do to make business easier and better for you. With the click of a button, you can automatically manage the end to end warehouse – right from when one item enters till the time it exits – with the highest possible efficiency. To learn more about it, book a free session with our solutions experts here.