SAP Business One ERP Software Partner in Pune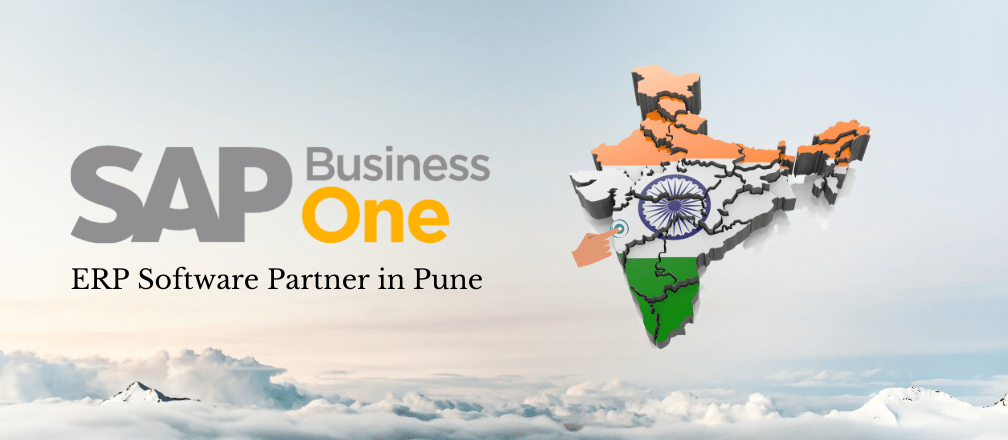 Businesses that have constantly been growing can find themselves in a better position by connecting their processes from accounting to inventory for efficient scaling and cost control. SAP Business One can be a time saver for businesses as it saves you from headaches and money. This highly advanced process can offer solutions to businesses along with their customers – eventually enabling business growth.
SAP Business One is one of that flexible and proficient single software that can enable businesses to grow their revenue model, increase productivity, gain customers, and acquire a competitive edge over the market. This is software that offers consistent results and remains a long stand performer, especially for small to mid-sized businesses.
The efficacy of this software has enabled it to be used by over 250,000 SMEs across the world. The powerful software enables streamlining the business functionalities and gives agility to meet the business goals. Choosing a reliable ERP Software company in Pune can be a good choice for medium and small businesses for the following reasons.
This is a budget-friendly choice:
No doubt that the entire cost of the ERP software will be seen in the business ROI with its use, finances, and budget are the major aspects that remain a big worry for midsize and small businesses. Integrating the SAP Business One ERP software can offer relief. This software offers not only outstanding ROI but also has diverse payment options that you can choose.
It centralized all your efforts:
With the growth of businesses, internal systems within businesses keep evolving. Later, these systems make the business process more complex and thereby making it hard to operate the business process. Lack of a centralized design leads to inefficiencies, customer dissatisfaction, reduced productivity, and much more. SAP Business One comprehends the huge importance of having the interconnected approach that enables capturing critical data into one platform. This is why SAP ERP for FMCG Industry is highly recommended for better business prospects.
It can fit your unique needs:
In today's dynamic market, change is the only constant, and businesses that are unable to accompany the change will not be able to grow in the current situation. In today's uncertain and unpredictable market condition, businesses require staying abreast of upcoming changes. Besides, the industrial standards and regulations getting changed every day to keep businesses running make SAP Business One a great solution. This is the next-gen solution that is flexible, compliant, adaptable, and customizable to meet every unique requirement of businesses.
It can be deployed on cloud and On-premise:
One of the most excellent aspects of SAP Business One is that it provides businesses with choices to go for Cloud option or on-premise. The advanced software offers both kinds of deployment to make it highly efficient for businesses. Thus, businesses can choose solutions that would amplify growth.
It has a strong ecosystem:
SAP has been able to make a robust ecosystem with decades of experience. A trusted ERP Software company in Pune can offer businesses with great software experience. There is a need for proper software implementation to improve the outcome. Also, thanks to the software flexibility, it enables customizing the SAP Business One and SAP Business ByDesign software as per the needs of the industry.
The pointers mentioned are only to name a few benefits of implementing and investing in SAP Business One ERP software that is worth knowing.