SAP ERP for Liquor manufacturing company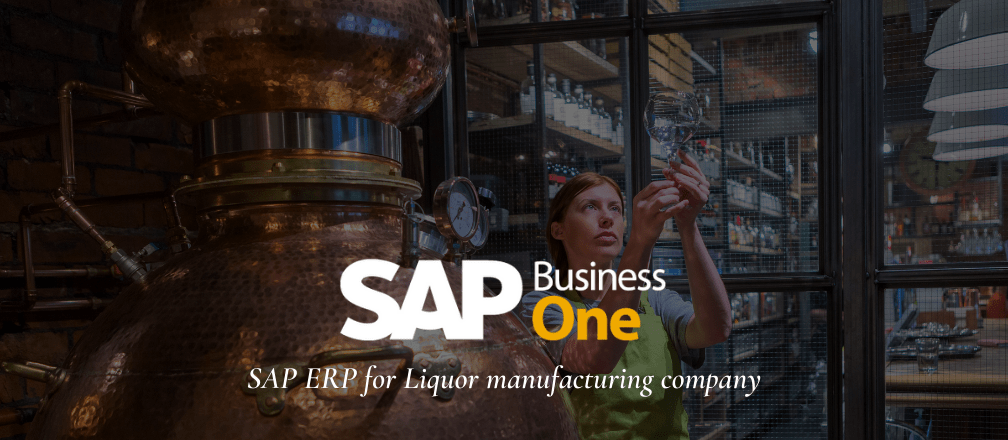 Why SAP Business One ERP for Liquor Industry?
Working in an industry of perishable goods needs constant observation. Thus, safety and quality is the topmost priority of the liquor industry. Every business handling liquor needs deep insights, proper optimization, and timely alerts. Therefore more companies have realized the need for integrating SAP ERP Solutions into their system. This would help them to react on time and get customer satisfaction.
No wonder that the liquor industry is prone to getting issues. Besides, there are a lot of factors that you need to check to maintain its quality. To get rid of challenges and make sure of the best, nothing but SAP Business One Solutions can be a great choice. This is a technology that has been designed keeping in mind the SMEs. So, it can meet the constant need and ensure the growth of businesses.
Challenge Faced by Liquor Industry:
Being one of the sectors that require strong observation, SAP Business One can ease the job. With the multiple features in this ERP solution, businesses can gain valuable insights. Therefore, this results in making informed decisions about businesses. Thus, when you choose to integrate the SAP Business One ERP Solutions, you do the best for your business.
Besides, working with regulation is the prime need. Being a part of the food and beverage industry, you have to comply with the rules. Since manually, it can become challenging, SAP ERP Solutions can be a good choice. This software follows the best practices, which ensures your company to comply as well. Thus, when you have SAP Business One in your process, you can enjoy the best of advantages.
How Can SAP Business One be Beneficial for Your Business?
The solution integrates production, sales, finance, purchasing, and other operations into one system. Thus, you can find the details on one screen.
The solution can be a good choice for controlling the entire production. Therefore, it can control production, distribution as well as packaging.
It can regulate the ingredients automatically. Thus, you will not need to include manual labour.
The system offers better planning to businesses by offering real-time information.
One of the biggest challenges is inventory management. Thus, if you were doing it manually, including the SAP Business One ERP solution can be helpful.
It makes sure that you are abiding by the state regulatory rules. Thus, you don't have to do manual checking every time.
You can get real-time details of the inventory. Therefore, you will get to know about stocks without continuously visiting the inventory.
SAP Business One can be largely valuable for liquor industries. The integrated features offer transparency in business processes, which adds to the profit. Since you acquire detail of your business from one point, it improves the chances of getting better results.
Choose The Best SAP Business One Gold Partner:
If you are looking forward to including SAP Business One HANA, you need an experienced partner. Thus, to enjoy the utmost benefits choose Cogniscient. They have the knowledge of integrating into the business process. Thus, helping you to enjoy the full advantage of this latest technology.