How SAP ERP Empowers the Pharma Supply Chain?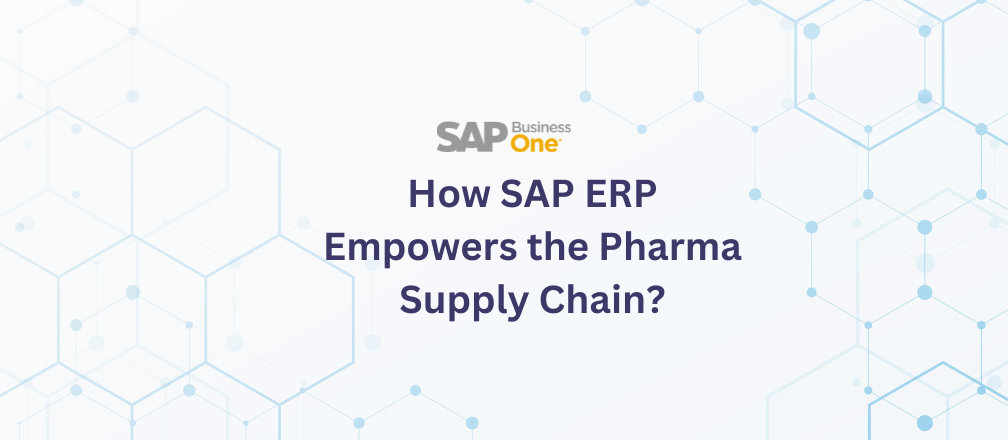 In the last two decades, the pharma supply chain has got more complex. As there has been a steep rise in the involvement of several parties in the supply chain, like manufacturers, suppliers, distributors, and retailers, it has become a problem. Some of the major issues are communication and integration issues, quality, concerns and delays. Therefore, in such a scenario, choosing ERP for pharmaceutical companies would have a great impact.
There is nothing new about the fact that pharmaceutical products would require abiding by quality controls throughout their supply chain. Therefore, companies that are into manufacturing would make sure to check every step, from raw material sourcing to its distribution, to ensure quality. Any issue in the measures can result in making the product ineffective and can also be a threat to humans. Therefore, to reduce the chances of errors and inefficiencies, implementing SAP ERP for the pharmaceutical industry can be valuable.
These latest technologies would be helpful in finding challenges and help all the parties have a clear view of the process. As it provides complete control of the overall operation processes, ERP pharma industry has been in increased demand. Not only it ensures quality production, but also makes sure to maintain transparency throughout the operational processes.
Implementing ERP solution to maintaining and managing supply chain:
The implementation of SAP Business One ERP solution on the pharma supply chain can provide complete control of the process. There are several challenges faced by the farmer supply chain which can be addressed with this innovative solution. Following are some of the major challenges with supply chain management.
Improper visibility across the supply chain
Failing to control the temperature
Unable to gather business data in real-time
Not complying with the pharma compliance
No proper technology to forecast demands
How can ERP for pharmaceutical companies be beneficial?
It helps to get complete control and visibility of the supply chain.:
Implementation of SAP Business One makes sure of smooth collaboration with the suppliers. Therefore, not only can it bring all the parties to the same level, but also it can identify glitches and issues. Additionally, with this latest ERP solution, businesses will be able to find the issues and resolve them before they take a bigger structure.
SAP ERP solution also supports inventory management. Therefore, it can be beneficial for companies with supply chains in different locations along with subsidiaries. It can optimise the supply chain and make sure that they get the correct product at the right time and at the right place.
It makes sure of quality control:
With SAP ERP for pharmaceutical industries, businesses will be able to find quality check issues while they occur. With the proactive quality control check, it can set alerts and make sure to comply with the standards. This helps to get real-time data and ensure maintaining the regulations.
You can easily apply the QA standards and get the powerful insight that you require to ensure quality. This would make sure to manage a proper pharma supply chain throughout the operations.
It helps in critical decision-making through real-time insights:
Business is required taking decisions. However, without proper information, it can lead to taking a bad decision. Therefore, choosing SAP Business One, which has been designed to provide real-time visibility into the entire supply chain, can help to get proper information. This can be beneficial while making critical business decisions.
The powerful SAP ERP for pharmaceutical industry has also been included with robust analytics and business intelligence. This helps companies track the key indicators and generate reports to make the required changes.
If you want to implement the latest SAP solution, you can contact Cogniscient.