SAP ERP: The Pillar of Success for Pharmaceutical Companies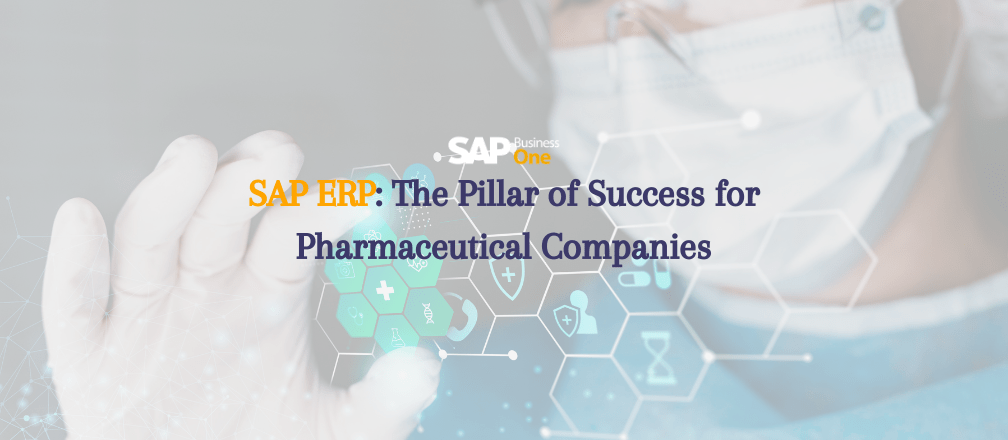 The Pharma industry is perhaps one of the biggest industries in the global market. However, this industry also has to face several challenges. As there are certain operations required for manufacturing, vaccination, medical devices and drugs, it becomes hectic for businesses to manage their colossal supply. Choosing ERP for pharmaceutical companies that have been designed specially to mitigate the rest can be an informed decision.
These businesses face new challenges due to healthcare reforms, huge regulatory requirements, demanding customer base, challenges with quality control and traceability, changing marketing trends and the enormous global competition. Therefore, it is imperative for the manufacturers of the pharma industry to maintain quality standards.
Achieving the objectives can be achieved by implementing SAP Business One. This is a popular SAP for the pharmaceutical industry that can effectively centralise the entire management, streamline operations, improve efficiency, reduce cost and help businesses make informed decisions. Hence, implementing one such innovative solution can ensure quality, hygiene standards and safety.
SAP ERP for the pharmaceutical industry:
ERP, or the Enterprise Resource Planning system, can be helpful for manufacturers. Therefore, it can help to meet all the important requirements. Since it fits flawlessly with departments, automates certain key functionalities and integrates internal processes, it streamlines the entire operation.
Additionally, the SAP ERP for pharmaceutical industry can also be beneficial for marketers to keep track of all the sensitive operations within the organisations like formulation, expiry management, compliance, costing, quality and a lot more. Therefore, the pharma manufacturing businesses can have a huge level of efficiency and profitability.
How is the ERP pharma industry beneficial?
It can manage formulation:
When it comes to the pharma manufacturing industry, formulation holds a huge significance. These formulas are typically formulated by intense hard work and research. Therefore, it must be efficiently managed. With the ERP pharma industry, manufacturers will be able to effectively manage different aspects like securing formulas and retrieving and storing them in business, along with maintaining other vital instructions.
It helps to meet regulatory compliance:
It is a mandatory requirement for pharmaceutical manufacturers to meet regulatory, environmental and industrial requirements. With ERP software, businesses can steer sure to meet global and local regulatory compliance. This is one of the most exclusive features that can be helpful for the pharma industry. Some of its premium features, like execution of SOPs, workflows, approval control, audit trials, generating BMR, and customer-centric COA, make compliance easier.
It helps to do a thorough supplier and material management:
With the best SAP ERP for pharmaceutical companies, manufacturers will be able to identify material quality needed for setting targets, production and creating purchase triggers. Therefore, its state of art feature can become a vital requirement for most pharmaceutical manufacturers. It helps businesses to scientifically monitor material usage, cut down material waste and reconcile inventory balances. Besides, the ERP system also helps manufacturers with raw material procurement.
Conclusion:
The pharma manufacturing industries have been continuously facing a huge demand in the market. Therefore, ERP for pharmaceutical companies can be a robust solution to manage the overall operations in the manufacturing businesses. As it can be helpful for the industry in several ways, it can ensure delivering great outcomes by managing its operation and ensuring fulfilment and compliance with the rules. However, choosing a smart and intelligent implementation partner like Cogniscient is crucial for a pharma manufacturing business to keep scaling and providing safe pharma products.