SAP ERP Solution for the Construction Industry in UAE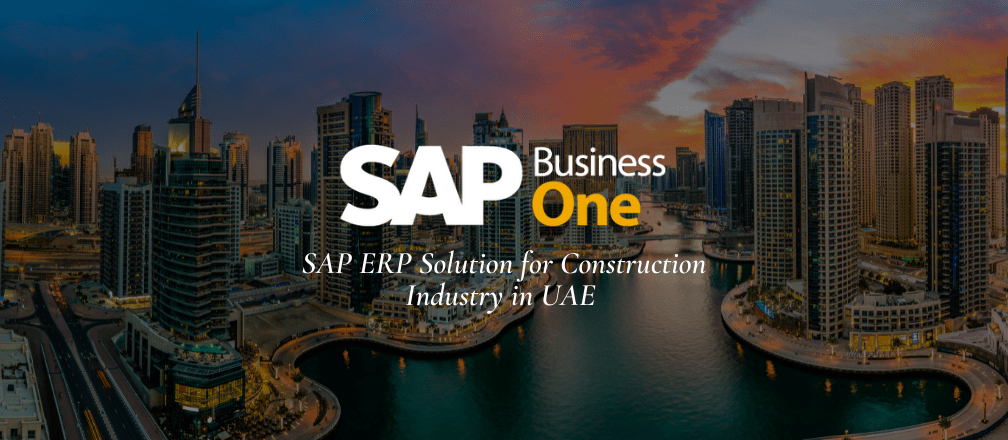 Why SAP ERP Solution for Construction Industry in UAE is Useful for Your Business?
One thing that UAE has done better than anyone else is infrastructure. With the global increasing daily and the land area remaining the same, the boom of the construction industry is never going out of need. The construction industry in the UAE is growing with a CAGR of 6%.
This is a great opportunity for your construction business to set a stronghold in the market. SAP Business One ERP solution for the construction industry in UAE makes doing this easy. But how? And what is the benefit of this investment for your business?
Let us explore this in this blog.
Booming growth
Construction businesses are useful in residence, commercial, industrial, and so many more infrastructure projects.
Where there is a large gap to fill, competition exists. And where competition exists, there are constant innovations and a race to get ahead. In such cases, challenges and obstacles are bound to grow.
That is exactly why a software solution is needed for such businesses that make processes simpler, efficient, and better.
1. Makes working with different departments easy
The biggest challenge for the construction sector is the lack of an industry-standard template that everyone has to follow. There is no sure-shot of assessing risks and managing clients & contractors. Maybe someone pays you on time and others don't. Further, when you are managing everything manually, errors are bound to happen where payments and invoicing are concerned.
With SAP Business One in Dubai, you have modules that make all this easy and automated. Yes, really. Also, you can customize modules for project proposals and bidding. And the most tiring part is collaboration which SAP makes easy. With everything automated and digital, you make the supply chain faster with lower costs and fewer errors.
2. Hiring people and making them stay
Imagine you went to a restaurant and all the servers are clumsy, they are messing up everyone's orders and the chef doesn't seem to get the recipe right. It is a mess, honestly. Would you stay or visit again? Of course not. The same happens with businesses.
People love it when everything happens in a defined procedure, has the right productivity measurements, and the HR policies are easily executed at the ground level. This is where the ERP's HR & payroll module comes in handy for your business.
You can onboard the new employees easily, add them to the policy system, automate the salary payment, vendor payments, see KPIs and KRAs, and do much more.
3. Better management
To meet the growing demand and do better than before, you must have technology as your assistant. With SAP ERP solution for the construction industry in UAE, you get 360-degree business management that synchronizes the processes, automates the tasks, and digitally transforms the business into an intelligent one.
Conclusion
UAE is a hotspot of infrastructure opportunities with a projection of an 11% growth. This is the right time to set yourself ahead of the competition with SAP ERP solution for the construction industry in the UAE. To learn more about this, schedule a free call with our experts.