Six things you didn't know about SAP Business One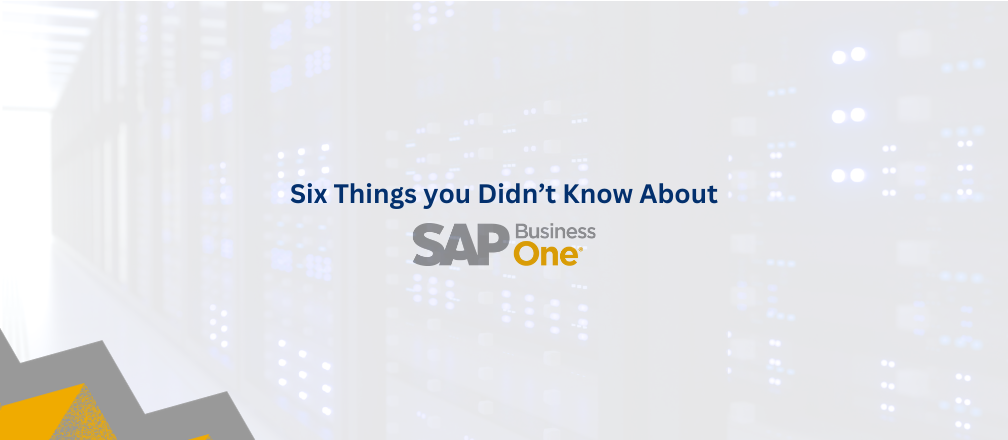 Overview
With the growth of small and medium-sized businesses, there is an increased demand for SAP ERP solutions. One such ERP solution that has been widely popular is SAP Business One. It is known as a robust end-to-end solution that becomes beneficial for organizations. Therefore, the solution Has the ability to easily integrate operations and remove disparate solutions from the centralized database.
SAP Business One is known as the most popular ERP system for SMEs. Research says that over 75,000 organizations are utilizing the features and functionalities of this platform. With 1.2 million daily users Using this tool, it has become widely popular across the globe. Thus, with SAP B1, streamlining processes and automating certain parts makes the overall system easy.
Its core functionality has some of the powerful features. Moreover, there are many tools present to seamlessly manage inventory, financial tasks and production management. It has been ranked as the top ERP solution for start-ups.
Following are some of the major facts that you must know about the SAP Business One ERP solution that you might not know.
Fact About the SAP Business One
Flexibility in deployment:
The users of SAP Business One will be able to enjoy a range of facilities. It is available both on-premise and cloud hosting, giving immense flexibility. Therefore, the solution allows the flexibility to host on-premise or in the cloud solution, or it can be combined into a hybrid model. Depending on the business requirement, SAP Business One can provide the right hosting service to fulfill business needs.
Reporting made easy:
Undeniably, creating reports is tiring. If you don't want to wait hours or days to receive the managerial reports, this tool is a must-have. With this SAP ERP solution, it will no longer take month-end closing to create a report. SAP Business One helps you to run real-time business. The in-memory technology of the solution helps to process real-time data and store them in a secure place.
It covers different bases:
All the tools that you require to manage every business aspect have been provided in this ERP solution. SAP Business One is a standard solution for all small to mid-sized businesses. Therefore, compared to other solutions, you don't require paying to use advanced features. It comes in a standard form where the departments can work together. The centralised solution provides a transparent platform and manages the operational flow.
A scalable solution:
SAP Business One has the ability to add more than 500 add-ons. These are the certified add-ons that can be beneficial for completing different tasks. These add-ons range from some of the most exclusive solutions to some lesser-known ones. It also provides industry-specific add-ons to add to the functionality. Therefore, managing the major operations and improving the company becomes even easier.
Easy integration:
Its constant development is the best part of using this SAP ERP solution. It is not only a solution that helps you to use the best practices and comply with the regulations, but it also allows businesses to integrate third-party applications and make work easier. Therefore, it increases collaboration and productivity between departments. This way, businesses can keep transparency and maintain the operational flow.
Read Also:- 5 Reasons your Small Business Needs ERP
Reasonable solution:
SAP Business One can provide you with the answers for all you need. Its scalability allows a company to keep growing and use the functionality. Therefore, you can simply use a solution and keep adding users who require access to the solution. The primary intention of SAP Business One is to help small-sized businesses complete. Therefore, its ownership is available at a very reasonable price.
Write Up
While SAP Business One is a great solution for small to medium-sized businesses, you also need to look for a reliable implementation partner. Choose Cogniscient to integrate and transform your business operation.