The Difference Between an ERP vs. Accounting Software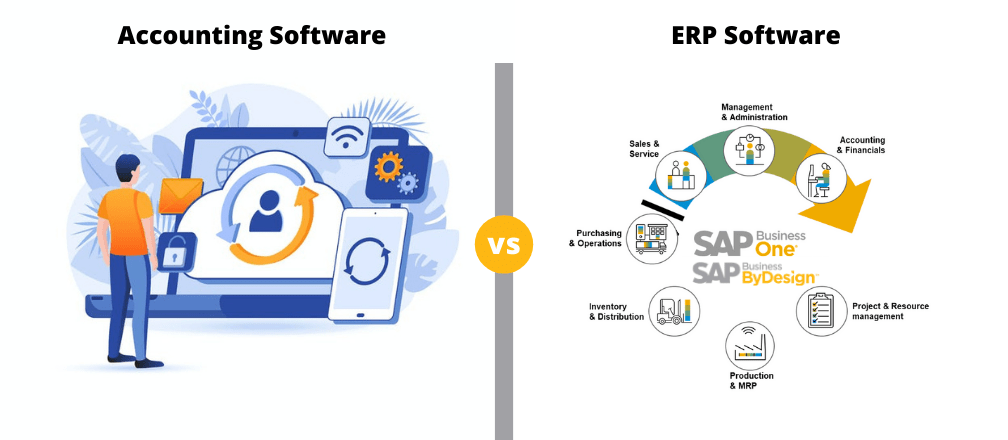 It is common for business owners to ask, "If I am buying SAP Business One and that includes accounting modules, shouldn't I just buy accounting software instead?" We get that a lot. So, here in this blog- The difference between an ERP vs. Accounting software, our experts are answering your question – what is the difference between both software systems and which one should you pick depending on your needs.
The basic difference
ERP software is an end-to-end business suite.
Accounting software only takes care of, well, accounting. In an essence, accounting software is a subset of ERPs like SAP Business ByDesign. Accounting software shares similarity with ERP software.
While ERP is a solution for the entire business, accounting software is a standalone solution. And honestly speaking, accounting software will only be used by the finance team while ERP will be used by all teams for their respective needs.
ERP is Better Than Accounting Software
While accounting software and ERP share some features, be sure to remember that ERP is a complete end-to-end suite.
While accounting software will address tasks like account payable, account receivable, sales, invoicing, an ERP can do all that and CRM, purchasing, inventory, reporting, etc. The ERP suites like SAP Business One Starter Package are integrated fully with all business processes.
Here's is what SAP offers you in terms of accounting:
1. Asset management
Being a business, you must have several fixed assets to take care of. With the help of ERP, you can simply manage all your fixed assets from one dashboard and eliminate the risk of repetitive data entry.
2. Financial reporting
No accounting team's work is complete without preparing periodic reports on the numbers. And it is a troublesome task, especially when you are managing all the numbers from registers stuffed in cabinets. With a digital system like SAP Business ByDesign, you can create standard reports with a click from real-time data for better reviews and audits.
3. Cash flow management
Finance is all about money. And it is imperative to know how much cash is flowing in and how is flowing out of the business. With manual supervision, there are always chances of errors. But when a digital system is managing cash flow, you can track budgets and expenditures with better accuracy and efficiency.
4. Banking
Being completely transparent on your banking front is crucial to avoid any legal mess in the business. And an important part of that is process reconciliation. With manual tools, it becomes tiresome and faulty. SAP ERP lets you manage bank statements, payments, process reconciliations, etc.
5. Invoicing
Managing all sales transactions in one place is necessary for maintaining ledger and account statements. With an ERP, you can synchronize the entire process. This way, you can track a lead from opening till closing without hassle.
Conclusion
If you want to learn more about how SAP Business One can help your business and is a better investment than accounting software, then schedule a free consultation with our solutions experts here.