Top 5 SAP Business One Implementation Partners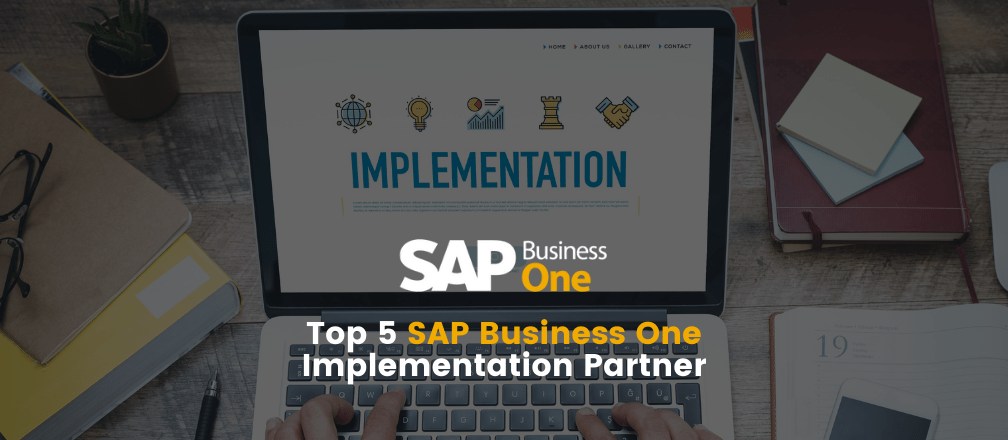 We all want to have better control over our business, small or large. And we want a system to handle all the headaches. But we do not want to change this system too frequently.
That is exactly what SAP B1 implementation partners offer you – a tool by SAP that gives you complete control of the business and grows with you. This software streamlines mission-critical processes and provides real-time data so that you can drive growth and revenue.
But with so many vendors out there, the choice becomes difficult. The line that separates a generic partner from the one that is right for you is very blur.
And we are here to make the decision easier for you.
Which SAP Business One consultant is right for you?
Having the right implementation partner is important for your business because the right consultant will accelerate your transformation while providing adequate support mechanisms. With the right people, the decision to buy, design, implement, support, etc. becomes a lot easier and most suitable for your business.
Here is the list of the Top 5 SAP Business One Implementation Partners that you can choose from:
Vision33 is a leading partner offering affordable ERPs to growing businesses & subsidiaries of large enterprises. They are an SAP gold partner with expertise in implementing accounting (and related) modules.
Next on the list of top SAP Business One consultants are United VARs. They have clients in about 100 countries and command a strong global presence. The team has expertise in working with mid-sized businesses in particular and are a Platinum Partner with the SAP.
Cogniscient is an SAP Gold Partner with expertise in providing B1 and ByDesign implementation services to clients in education, automotive, manufacturing, pharmaceutical, e-commerce and many more industry verticals.
Their experience of more than a decade has earned CBS status of "expert" in the market. Over the years, they have amassed a noticeable experience in strategy, consulting, and technology. Furthermore, the team have a deep sense of understanding of what clients want and what client's business want.
With about 15 years of experience under their hat, Seidor has established itself as a reliable SAP B1 implementation partner for hundreds of clients. They are also a certified SAP Platinum Partner with a team of hundreds of consultants. They are known for providing fast end-to-end individual solutions for small and medium-sized businesses for better process optimization.
Sapphire Systems is an innovator in mid-market businesses. With a focus on streamlining processes, integrating ERP, automating functions, and optimizing business processes, the team is working with customers globally. Their team is a trusted advisor in accelerating digital growth for businesses.
Conclusion
Choosing the right vendor out of hundreds of SAP Business One implementation partners in Dubai is as important as running the business. Different partners have varying expertise and forte. Learn how Cogniscient can help transform your organization into a digital business by scheduling a free consultation call.