What are SAP SuccessFactors HCM solutions, and how can help enterprises?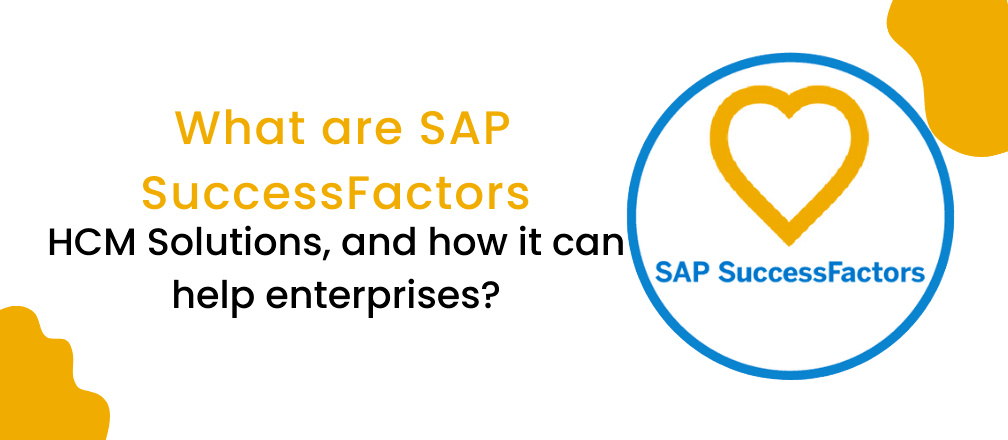 The business market is expanding every day. Thus, it is also resulting in an increase in the number of employees in an organization. Keeping a track of the records is becoming a big challenge. Besides, organizations would also need to find the best and most capable employees. Therefore, having an advanced solution like SAP SuccessFactors HCM Solutions can be highly valuable. This robust software can simplify human resources and save time and money.
SAP SuccessFactors is the new cloud-based HCM solution. It has a big demand in the current market. Thus, it could easily reach the corners and become a successful solution. With all the attributes included in this robust solution, it has become a need for the IT verticals. SAP SuccessFactors minimizes efforts while making it easy to acquire detailed organizational reports.
Recruitment and on-boarding management: SAP SuccessFactors can be beneficial for organizations as it offers a comprehensive recruiting solution. Besides, it has a set of tools that can analyze and select. Thus, helping you to engage, attract and find the best candidates. It is also beneficial to measure business impact.
Using the HCM Suite makes onboarding a planning procedure. It is highly effective in enhancing retention, productivity, and job satisfaction. Therefore, it is highly valuable in offering thorough guidance to hiring managers and other onboard activities.
Performance and Goal Management: The HCM Suite has the feature which offers the business the core HR system. Thus, it can redefine self-service in the HR system. It can be highly beneficial in tracking goal progress. It can also help in the communication strategy and creating a meaningful team. Thus, helping companies to achieve their goals.
It also facilitates encouraging employees to perform better. With this robust software, it becomes easier for organizations to allow smoother compensation and performance management. Therefore, SAP SuccessFactors HCM Suite can be a great inclusion in organizations.
Leave and Time management: You will be able to acquire comprehensive details of the employees. In one dashboard, you can easily manage the time and leaves of employees. Thus, this quality workforce information can be valuable for any organization.
By making use of this high-end tool, you can be able to make a comprehensive leave and time management. Thus, valuable insights can be highly beneficial for any company. When companies are able to make informed decisions, they can expand more.
Succession Planning: By making use of the feature, organizations can plan better recruitment. Thus, companies will be able to plan and execute so that they can include the best talents in their company. It is also beneficial in aligning learning activities and preparing employees for future and existing needs. Thus, it can be beneficial in career planning and continuous development.
Learning management: It has the learning management feature, which can be extremely beneficial for companies. Thus, the inclusion of comprehensive learning solutions can be highly beneficial in managing, creating, and deploying training. It lowers hazards and makes better employees. Choose Cogniscient as the top SAP SuccessFactors Implementation Partner and enjoy the benefits of this HR and Payroll solution.