What are the advantages of SAP Business One?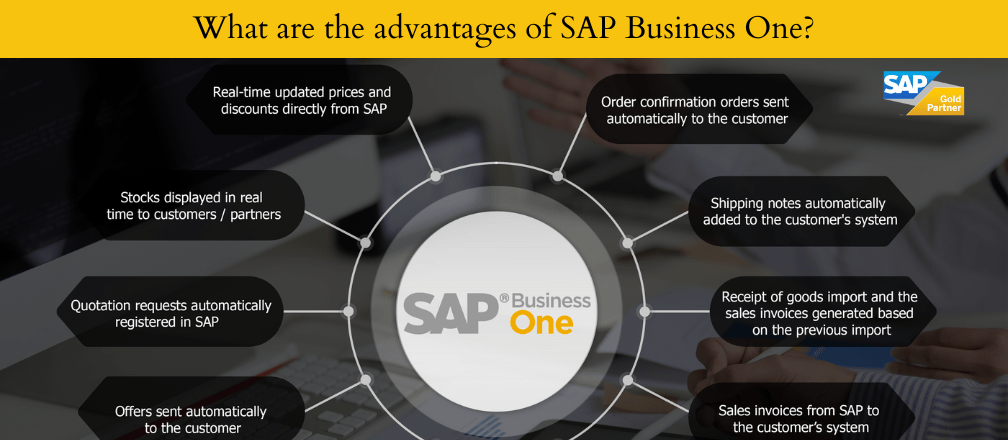 SAP Business One is an advanced technology used by small and medium-sized businesses. It supports the core business process and can suit the unique procedure by customization. Besides, the financial module can help enterprises to streamline banking, accounting, and reporting processes. With the inventory management module included, businesses can significantly reduce time delays and overhead costs.
Thus, SAP Business One has proven to become an affordable and great solution for small and medium-sized businesses. It can be an excellent choice for businesses with a maximum strength of 250 employees. So, implementing SAP Business One is a better choice, irrespective of your industry. Whether you want cloud or on-premise implementation, it has a multitude of benefits for your business.
Top 4 Advantages of SAP B1:
Reduce resource limitations: Most of the time, businesses suffer from limited valuable resources. As business requires essential resources to function properly, it can severely affect in case they don't have them. It has been witnessed that most companies find budget issues when it comes to hiring business analysts, data scientists, and software engineers. Without them, it is tough to manipulate the data businesses require to stay with the market.
Thus, SAP business one can provide businesses with great technical skills that they need to meet the changing market demand. It is also beneficial in improving the business results. So, companies will no further require dedicated professionals to manage services and systems. You can save your money and time while being able to enjoy great results.
Industry-specific enhancements: Every business needs to work as per its specific process or workflow. Since there is a need to be particular, choosing any system won't be sufficing. So, choosing SAP Business One ERP Software can easily help to meet the specifications based on your industry without much customization.
With more specific information, not only the employees but also customers can notice visible differences. Since everyone can access the essential information, it will become helpful to make the right and informed decision. Besides, since the program is highly adaptive, the module or function has the features to meet your specific requirement and work accordingly.
A scalable choice: SAP business one is mostly created for small and medium-sized businesses. It is not a great solution for large enterprises. So, whether you are a start-up or choosing to expand, using SAP Business One can be extremely beneficial. This ERP model has all the modules that you require to support growth in a range of directions.
SAP is strongly designed based on business needs. Therefore, it provides every crucial data that you require to plan ahead. Apart from this, you have the freedom to scale when required. You can commence from basic implementation and can expand while your business grows and expands.
Collaborate with your business: Any business can survive when it perfectly collaborates with every department. When anyone falls out of the sink, it can be devastating for the business. SAP Business One provides the freedom to send data to every department at the right time.
Choose the top B1 implementation partner – Cogniscient, to enjoy the multitude of benefits of SAP B1 modules.