WhatsApp Integration with SAP Business One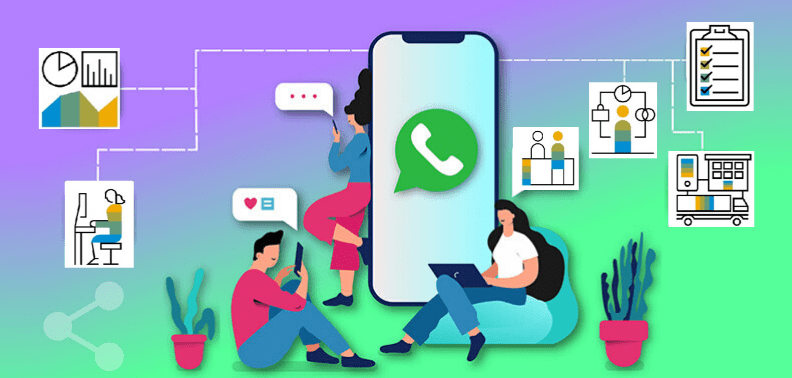 Texting your friends "Happy Birthday!!" through SMS to wishing them with videos and GIFs on WhatsApp, we have come a long way. WhatsApp has absolutely transformed the way we communicate forever and for good. WhatsApp not only allows you to text but also to share audio, video, pictures, location, documents etc. effortlessly. Enterprise Resource Planning (ERP) software is no exception to the WhatsApp fever and has started to find ways to utilize the immense potential WhatsApp brings over SMS.
ERPs had not even adopted SMS integration properly that WhatsApp started knocking the door. ERPs use SMS not only to disseminate critical transactional information but also allow users to transact with ERP in absence of internet or mobile app. The users can simply reply with designated codes to approve or reject the transaction in the ERP. This functionality soon became a hot favourite among all ERP customers as it ensures business continuity under all circumstances.
On the other hand, WhatsApp is an instant messenger that runs on internet using "store and forward" mechanism for exchanging messages between two users. One can surely say that WhatsApp isn't versatile as SMS since it requires internet but mammoth improvements in penetration of internet and smartphones over past few years have mitigated such concerns drastically. Apart from this trivial con WhatsApp brings a host of new features which couldn't be even imagined in SMS era. Today, on an average 80% of the smartphone users check their WhatsApp every 15 minutes. This frequency ensures that the message is not only delivered but also responded in real-time.
Today WhatsApp is being used by variety of industries as their customer service platform where the users can do everything right from viewing the catalogue to making a purchase. AI enabled chatbots have replaced humans to communicate with customers/prospects resolving their vanilla queries allowing businesses to save huge manpower costs. SAP being the leader in ERP industry is committed to bring these numerous benefits of WhatsApp to their clients and their businesses.
SAP B1, the numero-uno ERP for SMEs can be easily integrated with WhatsApp through add—on module developed by SAP Business One Gold Partner CBS unleashing a host of new benefits for their clients. With WhatsApp integrated with the ERP, the users can do multi-layer navigation in the ERP in a much comprehensive manner than SMS. WhatsApp will also allow the users to fetch real-time reports from the system in the form of PDFs or web page link reducing the need to open ERP app or web version for small tasks. On the other hand, factory workers, field force etc can click pictures of issues, material delivery proofs in real time and submit into the ERP system reducing the need of any formal training for using dedicated mobile apps etc. One thing which we can conclude is that above discussed features of WhatsApp are just tip of the iceberg. As the technology matures, WhatsApp is bound to unleash a ton of other unforeseeable features which will bring more agility and speed to the entire ERP ecosystem.