Integration of SAP Business One with Third-Party Applications and Add-Ons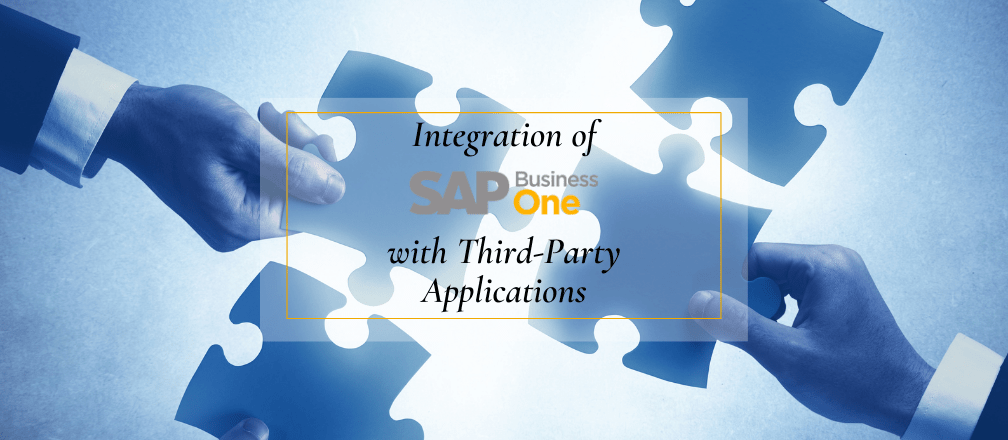 Every company requires having a clear view of their day-to-day performance in order to improve their business operation. When an organization has data that can be checked easily, it becomes easier for any company to make the right decision. However, without the integration of a proper ERP solution, it can be really challenging. This is when you need to look for high-end business software that can manage problems and offer excellent solutions.
What is the Use of the SAP ERP System?
SAP Business One is an ERP solution that can automate business processes. This online software helps to manage and improve the information flow across businesses. SAP B1 is one of the most commonly used ERP solutions for mid and small-sized businesses. It offers real-time information that can be extremely important for companies as it facilitates the information flow to make the right decision.
SAP B1 has several modules, which include distribution, finance, inventory, logistics, and a lot more, which can be helpful in a myriad of manner. Businesses will no longer have to worry about data as they will be provided with the correct data at the right time. Hence, it can be helpful in improving customer relationships and businesses.
The integrated module in SAP Business One is mainly used by several companies as it helps companies improve their daily tasks.
Importance of using Third-party Software with SAP Business One
When a company grows, parallelly, the workforce and production also grow. It becomes a problem to manage the huge data in a systematic manner. However, companies require collecting real-time data in order to reduce the chances of production delays and make the right decision. As companies have started implementing third-party software with SAP B1 in different departments, it helped them to get real-time information along with offering accurate data.
Some of the most common third-party application that is integrated with SAP Business One are:
WMS – Warehouse Management System
SFAS – Salesforce Automation System
TMS – Transformation Management System
POS – Point of Sales system and several other third-party applications.
WMS: It mainly focuses on managing warehouse activities. WMS includes processes and software that can help administer and control warehouse operations when materials and goods are received in the warehouse. It makes it easy to keep track of the movements like packing, tracking, and receiving.
TMS: The transport management system is mainly used for automating logistic operations. It ensures delivering orders on time to customers. It can be easily set for managing every day delivery schedules in advance. With TMS, it does not require much planning. It is integrated with SAP Business One to improve data security and accessibility.
SFAS: Salesforce Automation System can make it easy to manage customer operations. It requires employees to visit outlet stores, take the required stock and use their tablets or mobile to order on the SAP.
POS: Point of sales system makes inventory, tracking, and tendencies easier to track. It also analyses sales reports along with other data to provide the correct prediction and help companies make the right decision.
Integration of third-party applications and other add-ons on SAP Business One can be highly beneficial for different businesses. It can be helpful for pharmacy shops, retail businesses, grocery stores, restaurants, and several other business operations. Choose Cogniscient for easy implementation of SAPB1 with other add-ons to leverage the ultimate benefits.