5 Reasons Why SAP Business ByDesign Is the Ideal ERP for Middle Size Companies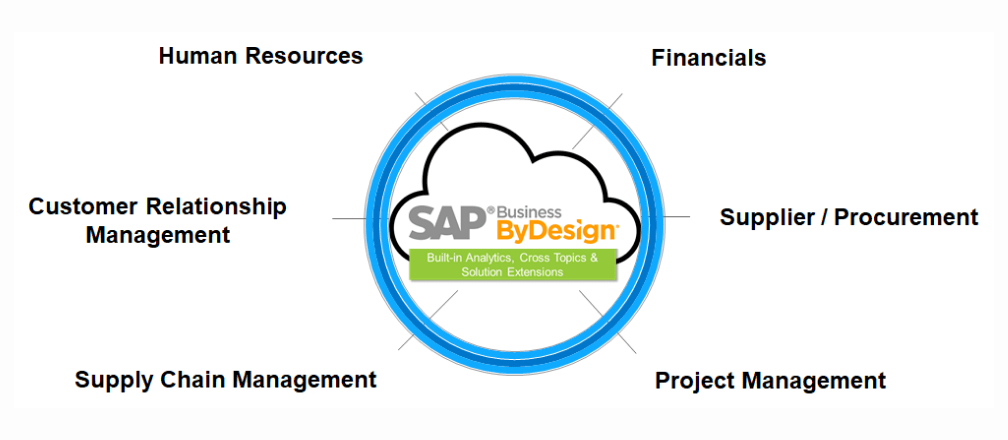 Your business is growing and you need something more than spreadsheets to manage the constantly piling business needs. You need software that can keep up with the constantly changing expectations, juggle between multiple operations, and offer real-time insights so that you can make smarter and better decisions.
If you search for ERP, you will find plenty of options. But SAP Business ByDesign is the Ideal ERP for middle size companies.
Why SAP Business ByDesign is your business' best friend?
A growing business like yours has to efficiently manage various functions and when you use spreadsheets for that purpose, there is the probability of error, missing data, and too much work to handle. Here is why you should opt for SAP ERP:
1. End to end solution
SAP Business ByDesign automates and manages all the primary business processes like accounting, customer relationship, HR, marketing, sales, purchase, and service. This suite operates on the cloud which makes it accessible on the go.
In addition to this, this ERP offers real-time data and insights with Business Intelligence so that you can make smarter decisions and enjoy the transparency.
2. Grows with you
Most software systems, when you outgrow them, cannot be upgraded. Either you have to buy a new license or upgrading the system is too expensive. SAP Business ByDesign, on the other hand, is a conduit of growth. It means the solution is scalable and grows as your business grows. Simply enter the license key, activate the module, and start using it.
3. Cost-Effective
We know, you are probably thinking that an automation tool that is capable of scalability, affording that will put you out of business, right? Wrong. ByD is neither expensive nor complex. And if you cannot afford the license as a one-time payment, then a lot of partners also offer to implement the solution on a subscription-based pricing model.
4. Quick Implementation
This SAP ERP has built-in processes that mean you just have to implement it, configure it with your business environment, and you are good to go. With these pre-built processes for everything like sales, customer relationship management, product management, etc., you get fast implementation and an automated business management suite driving the operations.
5. Better Business Management
It sets you free from the time the spent on a configuration like in other systems and allows you to put all the energy into doing what you do best – running the business. Focus on the things that matter and drive growth with data-backed decisions and without having to worry about business process management.
The only process where time is needed is auditing your business and determining the solution plan for you. Once the blueprint is ready, then it is just a breezy implementation from there.
Conclusion
Being a mid-sized firm, there are a lot of budget constraints but a lot of requirements from a tool, and SAP Business ByDesign is the Ideal ERP for you. Cogniscient Business Solutions has helped thousands of businesses and can help yours too. Schedule a free consultation call with our experts to learn more.