In terms of SAP Business One Implementation, which partner provides the best service?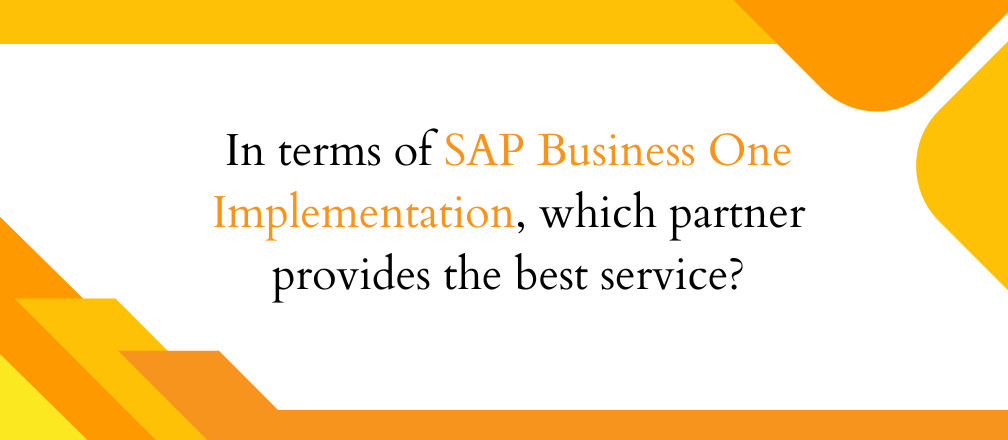 When you are planning to migrate to SAP Business One you have to look for the best implementation partner. With the best talents, it becomes easier to acquire success. However, the challenge lies in making the right choice of business one implementation partner. Thus, to help you choose correctly, we will check some of the most important facets that you require checking.
Since the market has a large number of implementation partners, it might become challenging to choose one. Thus, you must consider a few things before choosing one. Remember that when you select properly, you can enjoy a large number of benefits. Therefore, without any further ado, let us look at some of the important things you must check to enjoy the utmost advantages of SAP Business One Implementation on your business.
Factors To Consider While Choosing an Implementation Partner Offering Great Service:
Expertise in your industry: You cannot even dream of better results until you choose a great SAP Business One implementation partner who does not know your industry. Thus while you are choosing and expecting the best results, select a partner who has knowledge of the ins and outs of your specific industry.
Expertise in providing the right solution: Solution-specific expertise is one of the critical aspects of the business. Thus, you need to ensure it while choosing a great SAP B1 implementation partner. So, while you choose a partner with expertise specifically in B1 ERP solutions can be beneficial to acquire great results.
Migration and assessment tools: The best implementation partner will be the one who has the required tools for migration and assessment. Thus, using these tools can be a great way to start assessing and understanding the business. Besides, since there is a need for migration of existing assets of your business, you require choosing the right implementation partner.
A wealth of experience and resources: As we all know, practice makes a man perfect. Similarly, when you are looking forward to choosing the best B1 implementation partner, you must be sure about the resources they have and their experience. With huge resources and experience, they gain the ability to overcome any hurdles or challenges. Thus, they ensure a seamless journey towards B1 and leverage the multiple benefits.
Implementation cost: When it comes to moving toward advanced tools and techniques, you must have the budget in mind. Well, this is very normal. So, you have to make sure that you check their budget before choosing. Undeniably you would not want to burn your funds, and hence it is always advisable to make informed decisions.
Check their reviews: Lastly, you need to ensure if the implementation partner is really worth choosing. Thus, you have to check the reviews provided by other clients to ensure whether they are a great choice.
So, now that you have gathered immense knowledge about the way to choose, you can find a B1 implementation partner with great advantages. Choose Cogniscient if you want to leverage the full benefits of SAP Business One Implementation. The professionals and their knowledge can be helpful for any business.