SAP Business One for Decor and Furniture Industry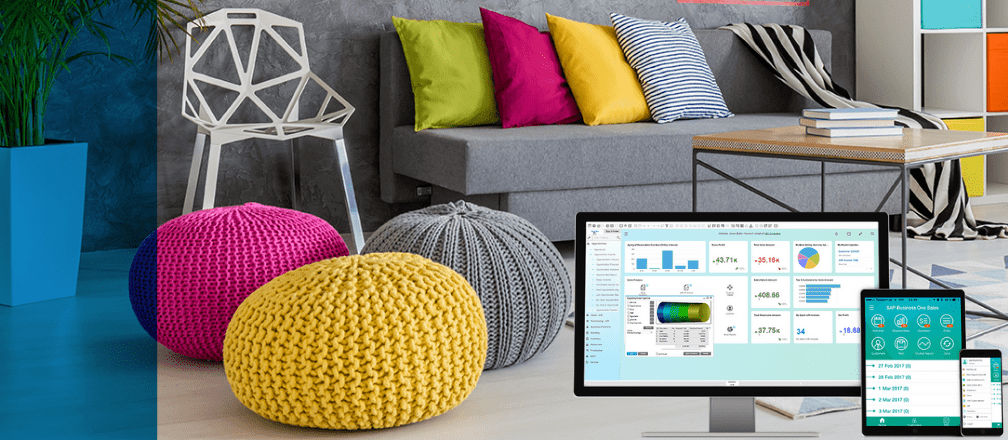 SAP Business One for decor and furniture industry is designed for businesses that grow, pivot, and evolve.
It is no secret that the decor and furniture industry trends are highly volatile due to sudden shifts in customer preference and demands. You need a solution that understands this sudden change, adapts itself and offers you end-to-end management; SAP Business One is that solution.
This blog explores how this software by SAP acts as the powerhouse of efficiency for your business.
Planning for Tomorrow
Your primary goal, most probably, is to scale the business, improve sales, and boost profits, right? For that, you need a tool that allows you to create value chains. How do you do that? With the help of the specialised SAP solutions SAP Business One and SAP Business ByDesign for small businesses & Mid Size Enterprises.
How does it work? This software gives your décor and furniture business all the tools that say growth and profits.
Managing cash flow? Check.
Remote employee engagement? Check.
Smoother operations? Check.
And the best thing is that you get to manage all this along with the disruptive market needs.
SAP Business One for Décor and Furniture Industry to Meet Goals
The future is uncertain and the roads do not look clear. For such an unclear way ahead, your decor and furniture business needs a strong suite to meet goals and achieve business objectives. Here are the four areas that this software supports your business for scalable growth:
1. Transparent Financial Operations
The SAP business one solution gives your business end to end transparency. With a single click, you can get a bird's eye view of the system and no possibility of error in data management. Thereby getting accurate and precise information on demand. This system offers the stakeholders transparent knowledge of financial operations.
2. Flexible Work Arrangements
SAP Business One for decor and furniture industry is the solution that gives you real-time data for all business operations. Thus, you can plan ahead of the immediate needs and maintain flexibility in the system. The tolerance in the system focuses on making your décor and furniture business so that any sudden shift in the market forces or customer behaviour doesn't hurt you.
3. Operational Resilience
The SAP business one is developed specifically for small businesses. To help your business scale and grow, this software offers flexibility. This makes your operations more resilient. What does it mean? The software ensures that your business offers uninterrupted services to the clients in case of adverse operation events.
4. Responsive Customer Experience
Businesses who do not value the time of their customers are setting up to lose. SAP business one is the tool that makes sure the same thing doesn't happen to your business. With integrated CRM, you can ensure that every customer is given a solution in the least time.
Need More Information About SAP Business One for Décor and Furniture Industry?
To learn more, schedule your free consultation with our solutions experts here at Cogniscient, your trusted SAP partner.