Accelerate Your Business by Upgrading to RISE with SAP with SAP S/4HANA Public Cloud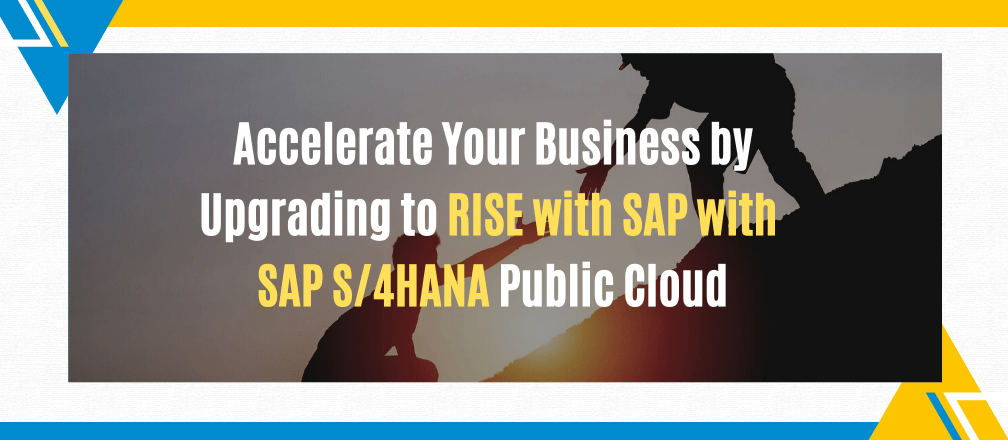 Every organization requires making changes if they want to compete and evolve. Innovation is the only word to avoid disruption and improve efficiency.
Companies require change if they want to compete and evolve. Innovation is the only word to avoid disruption and improve efficiency. Therefore, businesses need to think of systems that are critical to their mission without causing any risk to the process.
While the solution can be numerous, RISE with SAP S/4HANA is probably one of the best. The solution has been specifically designed for supporting businesses in the industry where SAP will take the responsibility of technical support, cloud operations, and service level agreement. So, RISE with SAP will help customers to get a software pack and services associated with HANA as a software-as-a-service model.
Besides, it also provides the flexibility to businesses to choose between a public cloud that has a standard process with the same individuality and personality as on-premise. Both of these will be hosted either on Google, Microsoft, or Amazon cloud providers.
RISE with SAP comprises the use of the business technology platform of SAP. It is exclusively used to develop outsourcing. Moreover, machine learning, robotic process, automation, and artificial intelligence are also a part of it. SAP partners and SAP itself provide it as a service.
Apart from this, most companies also use SAP's business network for collaborating with several other companies in specific areas like supply chain and purchasing. The report or business process intelligence analyzes the business processes.
Definition of SAPS/4 HANA public cloud edition:
This is a comprehensive ERP model with the infrastructure of the public cloud managed properly by SAP. The overall system is properly designed for customers who are in search of a specific approach and would like to initiate the project in the cloud.
Besides, it can also be a great choice for businesses that would like to expand faster with subscription-based solutions. This cloud edition can be helpful for your business when it is about standardization and simplicity while following the best practices of the industry. Most companies choose cloud edition because of the low price point and easy adaptability.
What are the benefits of RISE with SAP S/4 HANA and SAP?
Subscription-based pricing:
The availability of subscription-based pricing models can be helpful for companies as they will be able to pay every month. Besides, companies also have the freedom to decrease or increase the user number depending on their requirement. Additionally, it does not require any additional maintenance charges.
Short implementation time:
In most cases, implementing the public cloud will take hardly a few weeks. Businesses will be able to start implementing and using this solution with very less training because of the user-friendly interface.
Best practices guideline:
S/4 HANA public cloud provides the ultimate benefit with the best practices. Therefore, companies from different industries will be able to implement products by complying with the standard business processes. They can get instruction on best practices from order to cash, hiring to retiring, and planning to produce.
If you wish to leverage the benefits and accelerate your business, choose Cogniscient to upgrade to RISE.