The Smarter Route to Migration SAP S/4HANA Cloud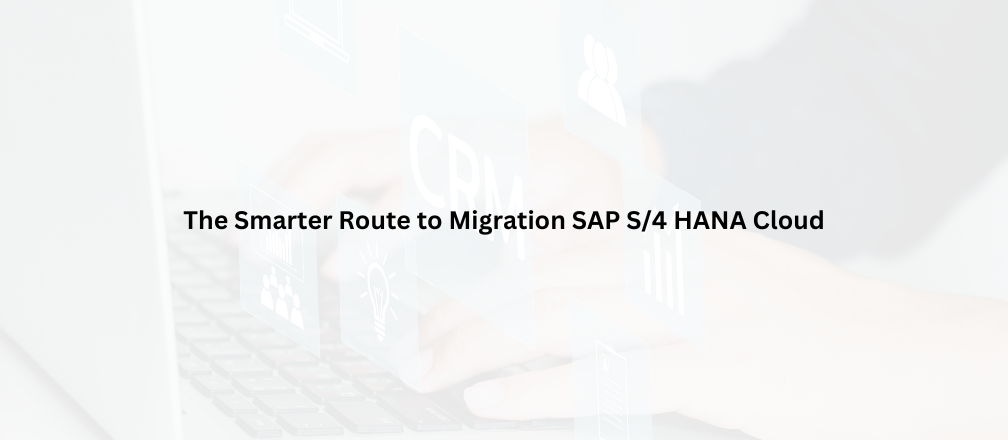 Introduction
The rising competition makes it hard for businesses to stay in the game. The recent time is not only about becoming a part of but also staying ahead. What can be smarter than choosing real-time analytics that is smarter and provides access to all the modern technicalities like AI, process automation, and a lot more? Therefore, leveraging the potential of SAP S/4HANA can be the ultimate formula to success. Migrating to SAP S/4 HANA is a major challenge that can be overcome by choosing a reliable implementation partner.
The latest SAP S/4 HANA can give a competitive edge to businesses in today's market. The real-time intelligence integrated into this latest module can be beneficial. It can be a great solution for mid-sized companies and the leading giants existing in the market. It can bring transformational advantages to any business. There are multiple reasons for SAP S/4HANA migration. Some of them are managing production, simplifying finances, keeping the supply chain under control, streamlining operational processes, and a multitude of other advantages.
The primary reason for the transition to S/4HANA is majorly driven by several reasons. The prime ones are the need to adopt the latest ERP system and long-term viability that provides some excellent technologies.
Migration approaches for SAP S/4HANA:
When organizations decide to begin S/4HANA migration, there is quite a wide range of options available to them. Whether it is about already using the SAP ecosystem or you are new to it and who is going to undertake the migration, determining the right approach in the migration process is crucial.
Here, we will talk about the two different approaches of greenfield and brownfield. SAP S/4 HANA migration. Greenfield deployment means a clean slate. This is a new system that is being implemented by using a new cloud infrastructure or data center. Let us take a look into both migration approaches in detail.
Understanding Greenfield Approach:
Greenfield's approach for S/4 HANA implementation refers to implementing the system in a place with no existing SAP ECC system. It is instead a completely new system with development from scratch.
In this approach, the migration involves different phases. These are transforming and mapping data from your old system to the new SAP system and getting rid of outdated information.
Hence, it is a complex model as it requires new implementation like data, mapping, system, configuration, integration and customisation. Therefore, it generally needs more effort and time as it is newly implemented.
Additionally, there is a potential for disruption as the new system is developed from scratch, which requires several adjustments and testing. Therefore, it might not be a smooth journey, but once implemented properly, it will ensure a smooth business operation.
Understanding Brownfield Approach:
Brownfield's approach can be referred to as the method where the company has an existing SAP ecosystem, which can be converted into S/4 HANA. It will retain the data, customization, and configuration.
In this approach, all the existing data can be migrated to the new HANA system, including transactional, historical, and master data. Therefore, it is less complex since there is an existing infrastructure, which makes customization easier with fewer changes.
Compared to the previous approach, the brownfield approach needs less effort and time as it is about adapting and converting existing systems. Therefore, it will not have much disruption on business operations.
Conclusion:
Irrespective of the migration route you choose to migrate to the SAP S/4HANA cloud, it is important that you ensure that you choose a reliable partner. With Cogniscient, you can remain assured of making the right choice of migration and ensuring a smarter operation that provides competitive benefits.