What are the three main components of the data model structure in SAP S/4HANA?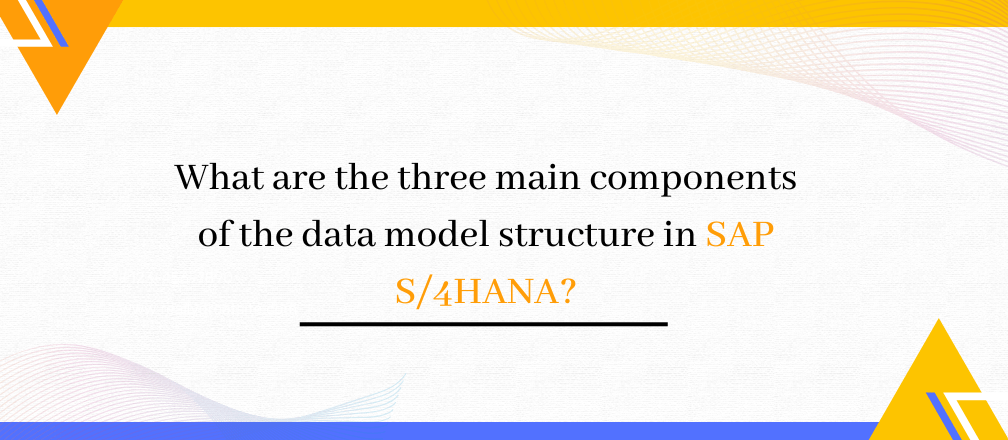 SAP S/4HANA is the business suite that is entirely based on the in-memory database of SAP HANA. Therefore, it helps companies to perform better transactions and ensure real-time business analysis. This ERP model is designed to improve the process by making the procedure easy, fast, and modern. It is done through lean architecture, user experience, and a simplified data model on SAP Fiori UX.
You can find both analytics and transactions on the same platform. Therefore it improves business use to make real-time analytics and businesses. The embedded analytics on SAP S/4 HANA is a number of actionable features and predefined self-service data that can offer actionable insight. With the correct implementation partner, it can be directly implemented into a transactional business process or in a standalone application.
Three Prime Components of data model structure:
Virtual Data Base Model on CDS:
SAP has come up with domain-specific services and languages, which are known as CDS or Core Data Services. These are for consuming and defining rich data models represented as the CDS view. Thus, it offers more ability than conventional data modeling tools. It now includes relationship definitions, extensions, and inbuilt functions.
The development of the CDS view is done to maintain and extend its use. Therefore, it can now be managed easily by a standard process. The prime principle is creating semantic layers and hiding the technical details. It has been further classified as private, consumption, extension views, and interface views. The prime reason for the new CDS view is to improve its visual data model.
The major principle is building a semantics layer on the existing database model.
SAP HANA Database:
Even when the embedded analytics is powered by SAP high-performance database, there is a need to push it to the optimum performance. Hence, when you activate a CDS view, it will generate SQL runtime views. It executes transformation and data present inside the layer of the SAP HANA database.
However, you should also know that some analytical features in CDS view might not be supported in the runtime views of SAP HANA SQL. These are some features that can be computed with the SAP S/4 HANA application.
Analytical Engine:
SAP BW component is recently included. This is one of those components, which is also known as the embedded SAP BW. This system is entirely responsible for the OLAP Services and functions. Therefore, this can easily compensate for the functionalities like formula execution, aggregations, and hierarchies that are not present in SAP HANA.
When you activate the CDS views, it creates a transient BEx query in the BW system. The analytics also provide access to data with OData. It can help users to understand by making consumable data.
Best practices for analytics included in SAP S/4 HANA offer a complete solution. It also provides a guide to using analytics within the SAP S/4 HANA. Therefore the contents can be a great choice to enable real-time operational reports without custom development. It helps to carry out business transactions easily within single applications. Choose Cosgniscient for the correct implementation.