How will SAP S/4 HANA Cloud help the Discrete Manufacturing Industries?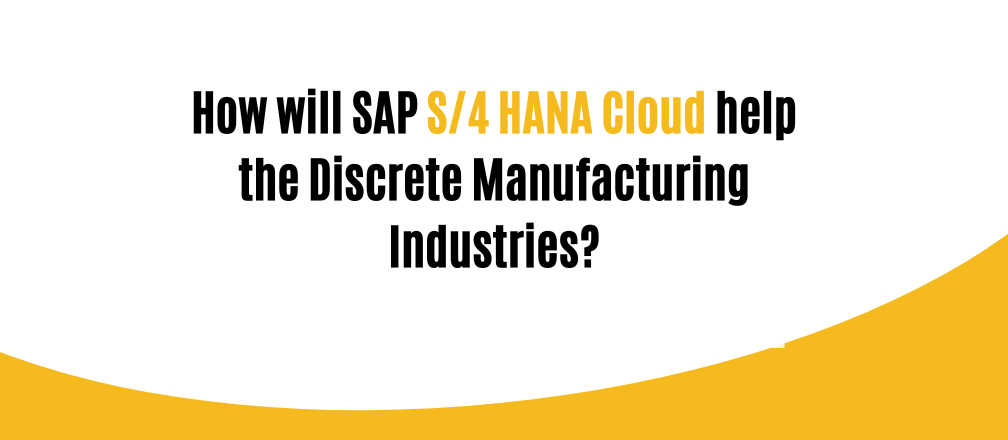 In modern days, if you want to compete with the other leading industries, you have to be backed with a proper solution. SAP S/4 HANA Cloud is one of the latest SAP solutions that is playing a massive role in the manufacturing industry. Whether you have a manufacturing industry or would like to set up one, understanding how ERP solutions can be beneficial for discrete manufacturing will be beneficial for you.
But, before we talk about the benefits of an SAP solution for discrete manufacturing industries, we will understand the significant challenges faced by this industry.
Challenges Faced By The Manufacturing Industry:
The manufacturing sector is a huge space and is one of the gigantic industries. This sector requires an extensive labor and knowledge extensive approach. With the use of the SAP S/4 HANA cloud, manufacturing industries will be able to streamline the process and overcome major challenges. Since every industry has its unique dependency, understanding every aspect is a must for improving customer satisfaction.
Regulation and traceability: By regulating the rules while implementing them, you will understand how it plays a beneficial role in this industry. When you work with multinational companies, you will find brimming new complexities in the manufacturing process. Therefore, implementing SAP S/4 HANA cloud and a manufacturing solution can offer corrective solutions in every aspect of the manufacturing industry.
Product development and innovation: Being innovative is one of the prime requirements of the manufacturing industry. The industry must make decisions to evolve in this fast-paced era. By improving the product cycle, it can be possible. Standardizing products according to manufacturing standards will be helpful. With the SAP S/4 HANA solution, manufacturing industries can find help in every aspect of product development.
Balancing maintenance throughout While manufacturing industries have multiple profitabilities, maintaining the overall process throughout is a big challenge. Since there are multiple sections, from manufacturing to supplying, maintaining it is a must. However, when it comes to getting clarity in all the stages, choosing ERP for discrete manufacturing can be highly rewarding.
Why Do You Require SAP S/4HANA Cloud ERP for discrete manufacturing?
A smart ERP system can be highly beneficial for the manufacturing industry. It plays like a right hand by providing all the essential information and instruction. It helps you to work on a range of growth opportunities by dealing with challenges. You can get rid of digital data disruption with a proper choice of SAP solution.
Most manufacturing industries should prefer SAP solutions as it provides high-end data analytics that helps them to stay updated. It provides accurate real-time data and offers the ability to make informed decisions.

IOT-supported connectivity in the manufacturing process can automate the entire process. The flexibility levels help to reduce the time taken to complete orders, thereby improving profitability.

It is effortless to use and can help improve by handling large production order volumes. With this SAP solution, you can enjoy minimal back order items which finally get canceled.
So, if you are in search of the SAP Solution for Discrete Manufacturing, choose Cogniscient Their expertise helps you to evolve by integrating SAP solutions into various processes.