Reasons to Switch to Integrated ERP, Hybrid, and Multi-cloud Platforms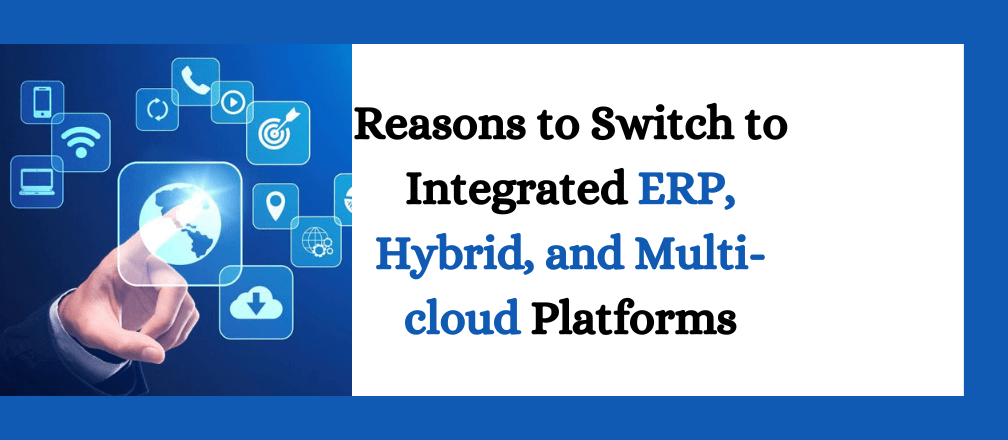 In today's ever-changing competition, businesses that are looking forward to getting a competitive edge require embracing the change. The conventional mode of business conduction will no longer provide good results. It is time that you look for the best SAP ERP solution that will help you in this competitive business world.
Therefore, in recent times, if businesses are not paying much attention, they are actually leaving a massive range of potential to their competitors. So the new world is looking for a multi-cloud ERP solution.
Hybrid and multi-cloud ERP solution:
SAP ERP solution implementation is forgotten, and it is time for businesses to choose advanced technologies. Cloud technologies are making huge demand in the current scenario. As it is adaptable and agile, it can meet the varying requirements of organizations.
Relies on multi-data sources:
If you want to stay relevant in the future and in the present, there is a need to look for a platform that will not only be helpful in documenting or modeling business processes but also meets your end-to-end process requirements. This is why you need to pay attention to business process management.
SAP Cloud ERP can be beneficial as it offers a comprehensive view of analysis, optimization, implementation, and design. This becomes beneficial in the composing process flow through the use of new-age technologies like ERP and AI.
Helps create data models and strategies:
SAP Cloud ERP solution provides room for innovation. It gives actionable insight into every move and is an excellent choice for an SAP ERP solution. Enterprises can take advantage of the SaaS model due to the scalability and the ability to make quick implementation without any disruption.
By implementing SAP Cloud ERP solution, companies can enjoy the advantages of innovative technologies like IoT, AI, analytics, and automation. All of these can be beneficial for any company to improve its growth and analysis.
Data compliance:
Irrespective of the business vertical you are into, you must always pay attention to compliance in your business realm. Remember that if you are not following their regulations and rules, it will eventually degrade your profit and result in making it harder to stay in the competition.
The cloud ERP solution has been specially created by keeping in mind data compliance. Irrespective of the business vertical you're into, you will get comprehensive knowledge about the process that you can apply and where you are falling back. Complying with the data will only become helpful in your business and will help you to keep going ahead.
Improved interface:
SAP Cloud ERP solution is one of the biggest technologies in the current market. It not only helps you to access information from everywhere but also, the improved user interface allows any user to understand the business necessities and possible, thereby improving the decision-making process.
Choose Cogniscient for a seamless transition.

While there are several other benefits of choosing SAP Cloud ERP Solution these are some of the most common ones. As the multi-cloud and hybrid platforms meet the current requirements, you must look for a reliable and proficient implementation partner to handle the transition. You can choose Cogniscient to switch to an integrated multi-cloud platform and enjoy its comprehensive benefits.